Trying to come up with interesting copy during what may be a prolonged absence of racing is going to be a challenging task, but I thought some readers might have an interest in my experiences acting as jockey's agent for Australian rider Kerrin McEvoy earlier this century.
Frankly, my aptitude for the job turned out to be very limited and it's not something I'm likely to do again. I certainly have a strong admiration for those who have carved out a career as an agent and work for multiple jockeys; it's a demanding role, and one which probably wouldn't suit every temperament.
As it turned out, things worked out very well, and we made a very good team, but that was down to Kerrin's ability rather than mine. He always seemed more than happy with the job I did, and I can't really remember a cross word between us over the five years, but I was lucky to be working for someone as level-headed as him.
Background:
I'd been working since 2000 for what started off as Arena Online in an office in Guildford, but quickly mushroomed into part of the original attheraces (as it was then known) set-up. However, around March 2004 we were informed that the company wouldn't be around for much longer, at least in its current guise, and people started looking for replacement jobs.
Meanwhile, Godolphin had recently appointed Kerrin as their new second jockey behind Frankie Dettori, with a change in policy set to dramatically increase their number of runners on British racecourses, including for the first time a large 2yo contingent.
Godolphin approached Richard Hoiles, already then established as a leading presenter, pundit and commentator, in their search for an agent for him, and he kindly put my name forward. Kerrin was riding at the Dubai Carnival at the time, so I was flown out there for a quick meeting with him and an interview with Godolphin's racing manager Simon Crisford.

That interview isn't one I'll forget in a hurry – halfway through Sheikh Mohammed walked in and sat at the desk where Simon had been sitting, and started poring over the materials (specifically draw/pace analysis that I thought might help Kerrin) that I had brought in support of my application. However, things seemed to go okay and 24 hours later I was back in England with a new job.
2004
I really didn't know what to expect once Kerrin arrived in England in April 2004. Godolphin had sent a promotional DVD to various trainers and owners, and there had been a couple of stories about him in the press, but I wasn't sure what the reaction would be to his arrival.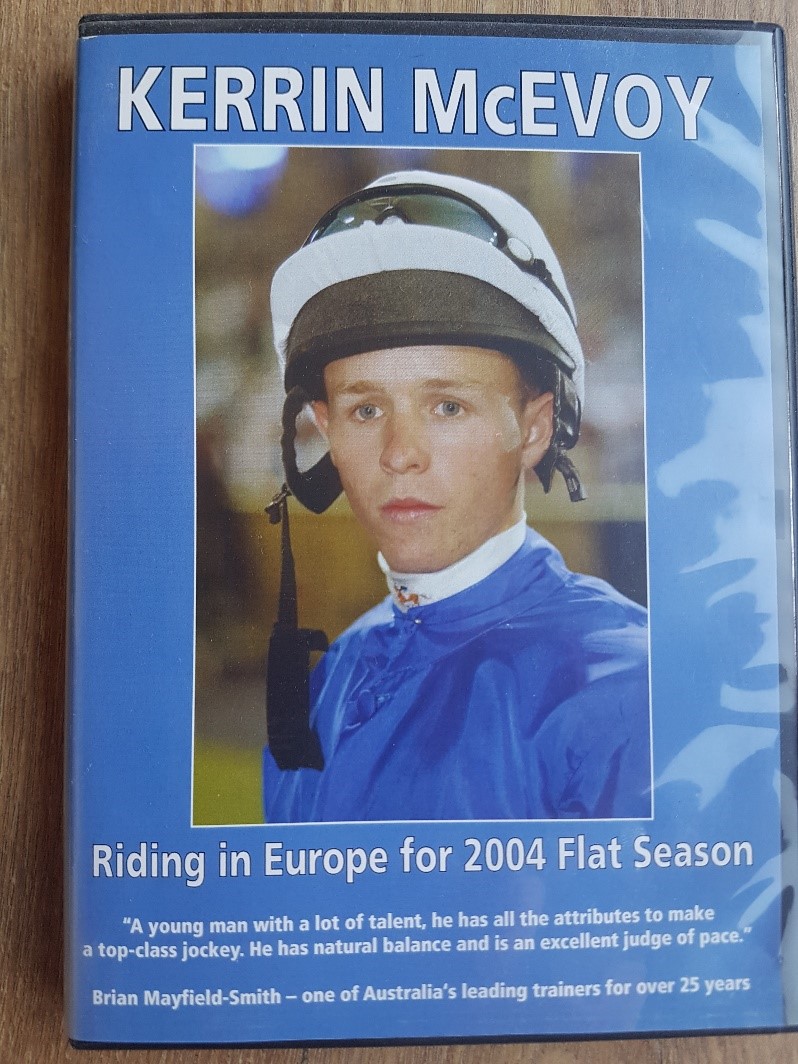 Looking back, it was naïve of me to have expected trainers to suddenly enthuse over a 23-year-old who had never ridden in this country before. I made plenty of phone calls in the early weeks but most of them were met by answers such as "we're sorted, thanks" or "we'll keep him in mind".
Kerrin almost made a glorious start to his British career. After breaking his British duck on 4-9 chance Destination Dubai at Haydock on his second day riding, his sole ride the following day was in the 1000 Guineas on Sundrop, who was a relative outsider at 16-1. Not well drawn, she ran a cracking race and was still closing on Attraction – who went on to win three further Group One events that season - at the line.
For a few days after that Godolphin had no runners and I drew a blank on outside rides. My anxiety over my lack of success in getting rides had clearly been evident in my phone calls to Simon Crisford, as he suggested I drive up to Newmarket to have a chat with him and Kerrin.

They could hardly have been more relaxed about matters, which helped me a lot. As far as both were concerned, Kerrin's main role was to ride for Godolphin, and whilst outside rides would be a bonus, they were both clear that they understood the situation, and moreover, it was made clear to me that I shouldn't take just anything that was offered to me, especially on wayward horses.
When I had arrived that morning Kerrin and Simon had been discussing a 3yo filly called Dawn Surprise who had worked well that morning, Simon feeling that she might be Listed class. She ran in a fillies' maiden at Salisbury a few days later with Kerrin riding; she was heavily backed throughout the day and duly ran a huge race, but ran into one in the shape of Sir Michael Stoute's Quiff, the pair pulling well clear. That wouldn't be the last time we had a close encounter with Quiff that year, though.
Three weeks into his stint Kerrin still had just the one winner, but then came a sudden opportunity. Frankie Dettori broke a finger on the opening day of Goodwood's May meeting, and although he was to miss only ten days, some immediate opportunities presented themselves.

The first was on Papineau in a conditions race that was probably closer to a Group Two event in terms of quality. Part of my role with Kerrin throughout his time over here was to talk him through each ride as I saw it in terms of pace, tactics and which part of the track might prove best. He got the tactics spot on here on his first-ever ride at Goodwood, bringing Papineau through late up the middle to win impressively.
He won a Listed race on Gonfilia the next day, but outside rides were still only trickling in, and few of the ones I was offered had clear-cut chances. It was to prove quite a while before Kerrin's quiet, well-balanced style seemed to become accepted in a country used to the more animated approaches in the saddle of the likes of Carson, Eddery and Fallon.
Kerrin had become good friends with both Frankie and Johnny Murtagh, and Ray Cochrane, who was agent to both, did his best to steer any spares that his riders were unable to fulfil my way. This help didn't really pay off until the following year, but when Kerrin was sent to the Curragh to ride Naheef, who finished fifth in the Tattersalls Gold Cup, he managed through Johnny Murtagh's help to pick up a spare ride on lightweight Sugarhoneybaby, who won at 14-1.

As delighted as I was that he'd ridden an outside winner, I was painfully aware I'd had nothing to do with securing the ride. Things did start to pick up a little, however; he rode a couple of winners for Alan Jarvis, and then the newly-formed battalion of Godolphin 2yos really started to hit the track.
There were so many of these juveniles that Simon had to plan their campaigns across the country, which meant that Kerrin was often sent north to ride some nicely-bred horses in maiden events. He took full advantage, winning on seven of his first eight rides on Godolphin 2yos.

One of the ones we were most pleased about was a horse called Council Member at Newcastle. He was up against a 1-2 favourite who had gone close at Newmarket on his debut, but the plan to grab the stands rail, which was massively favoured at the time, paid off and Kerrin made all.
Whilst Kerrin was making the most of his opportunities, I was still very much learning my way. There's no manual that teaches how to be a jockey's agent, and whilst I felt my knowledge of racing form was sound, that barely seemed to matter, at least in the early days.
Unless they represent one of the elite jockeys, agents aren't in the position of sifting through each card as they come through at the six-day stage, deciding which horse they'd like to ride. For most jockeys, it's not all that often that they even have a choice of rides. Every day lists are published in the racing media of jockeys who are going to meetings for just one ride, but in most instances it will simply be a case that they couldn't get any other rides.
When the entries come out for an everyday Flat meeting, not only will most agents know immediately which horses their jockeys will either be likely to ride or have a chance at riding, they would also be able to make a fair estimate of which jockeys will ride all the other horses too, with most stables' pecking order in terms of jockeys reasonably transparent.
When that changes tends to be on Saturdays, or other days when there are multiple meetings. It might seem counterintuitive, but sometimes an agent who is struggling to get a single ride for a mid-ranking jockey at a Monday meeting full of class 6 events can have a choice of two or three rides in valuable Saturday handicaps contested by horses rated 90+.

June 2004 was largely a month of near-misses for Kerrin. Rule Of Law stayed on into second from a long way back in the Derby after not handling the track, and at Royal Ascot the quirky Zonergem was unlucky not to win the Hunt Cup at a huge price, third overall but first home on the far side under a great ride.

By mid-June full racing coverage was back on TV with RacingUK and then the relaunched At The Races in full swing, and not having to dash to the bookies to watch Kerrin's rides was a welcome development. In general Kerrin was enjoying fairly positive press coverage, and his cause wouldn't have been harmed by his approach to interviews, where he came across as eloquent, level-headed and helpful. Personally, though, I was feeling frustrated; I was reasonably confident about my knowledge and understanding of form, but it didn't seem to be helping me at all in this job.
At the start of July I finally managed to do something right, though. I thought a filly called Pintle had shaped with promise on her seasonal debut at Bath in race that featured some in-form rivals, and as her trainer John Spearing had already used Kerrin once, I thought I had a chance of getting him on her, and so it proved as he was engaged for a 7f fillies' handicap at Yarmouth.
I took a bit of a gulp when I saw her priced up at 33-1 on the morning of the race - I had been enthusing about her chance to Kerrin since declarations and had expected that he would she would be at single figures in the betting. She was up in trip, but broke well, and with no one else wanting to make the running, Kerrin set his own tempo and made all, never looking like getting caught.
She was only winning off a mark of 65, but this remains one of the more memorable moments in my time in racing, as I actually felt I had finally done the job I was being paid to do, and Kerrin seemed just as happy as me when he phoned me on his way home. Kerrin and I had a pattern where every morning he would ring me to discuss the previous day's rides and then run through tactics for today's mounts, but throughout his five-year stay, he also unfailingly rang me on his way home to congratulate me if he'd ridden an "outside" winner.
July turned out to be a good month. Although there was disappointment when crack Aussie sprinter Exceed And Excel failed to fire in the July Cup after a troubled preparation, I was starting to get a few more outside rides for him. We enjoyed a particularly good day in the middle of the month, when Kerrin followed up on Pintle at Leicester before zooming up the M1 to steer James Bethell's Scotland The Brave home at Doncaster's evening meeting. The month ended on a positive note, with Dettori choosing the wrong one in the Group Two Lennox Stakes, Kerrin swooping late on Byron with Frankie only third on Kheleyf.
It was a bit unfortunate that, just as we seemed to be getting going, evening racing finished, we were back to two meetings per day and the opportunities to pick up spare rides reduced swiftly. August was a fairly quiet month, with a notable disappointment coming in the Ebor when Kerrin was booked for Star Member some time in advance of the race, only to be jocked off five minutes before declaration time when Kieren Fallon became available. There were a couple of doubles towards the end of the month, however, and then September suddenly provided two huge opportunities for Kerrin.
One Tuesday afternoon I received a call from Clive Brittain. His high-class 1m4f performer Warrsan was set to run in a Group One event in Germany that weekend, and he had been left without a jockey as regular partner Darryll Holland was heading to Longchamp to ride Lucky Story in the Prix Du Moulin.
Clive understandably needed a fairly swift answer, and at the time of the call Kerrin was cantering down to the start at York. I was fairly sure he'd want to take the ride, so I said yes and left Kerrin a message.
At the time I had zero experience or knowledge of things like flight times and how to transfer from airport to racecourse in these circumstances, but there were two or three other British jockeys heading to the meeting and Kerrin was quickly fixed up.
At The Races had been showing plenty of the racing at Baden-Baden all week, this being one of the major German meetings, and anyone watching would have noticed that coming wide in the straight and over to the stands side looked a big advantage. Kerrin rode the whole race with that as the plan and brought Warrsan through to win by a neck.
Six days later came another big opportunity. Dettori went to Leopardstown to ride Doyen, who was sent off at odds-on in the Irish Champion Stakes, but finished only fifth.
That gave Kerrin the plum ride on Rule Of Law in the St Leger. Adopting totally different tactics to the Derby run, he dictated the pace. When Kieren Fallon loomed up on his outer on Quiff – who had come a long way since that Salisbury maiden win over Dawn Surprise in May – Rule Of Law looked sure to fade, but he battled on well to see off the filly.
This was the real breakthrough ride for Kerrin. The sight of his streamlined figure getting the better of Fallon - who was Dettori's only serious rival as the pre-eminent Flat jockey in the country at the time – in such a big race must have left quite an impression. We kept ticking over with the odd winner here and there in the closing weeks of the season before Kerrin went back to Australia, including a third victory for Pintle, and although 44 British winners seemed a very modest tally, there were plenty of reasons to be optimistic about 2005.