A Champion's performance from Epatante?
There were a few really impressive looking performances over the weekend and, perhaps, none more pleasing to the eye than that of Epatante in the Grade 1 Fighting Fifth Hurdle at Newcastle and Envoi Allen in the Grade 1 Drinmore Novices' Chase at Fairyhouse.

I would suggest that it is important to balance how scintillating Epatante appeared to be in the finish next to the fact that the one target horse she took aim at has previously been held-up and was, therefore, a reluctant leader. Furthermore, as good as Sceau Royal is, he would be performing to his level if he managed to finish in the prize money in a Champion Hurdle, and only then if he competed on decent ground. Clearly, the Fighting Fifth did not go Sceau Royal's way which accentuated the pleasing nature of Epatante's late winning thrust. In addition, the Nicky Henderson–trained mare, as good as she looked, did no more than one would have also expected from the likes of Saint Roi and Abacadabras.

The Cheltenham Trail Form Book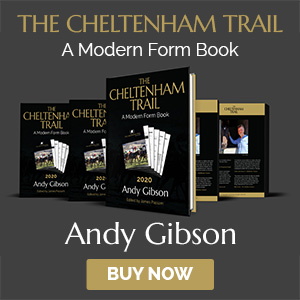 Andy Gibson's new book takes readers through the 2019/2020 National Hunt season as viewed by members of his Cheltenham Trail website. It is a 400+ page hard back reference style book with added stories, strategies and philosophies.
With forewords from Philip Hobbs and Mick Fitzgerald plus previews and reviews throughout the winter culminating in the 2020 Cheltenham Festival, A Modern Form Book is a must read for any horse racing enthusiast.
And another from Envoi Allen?
Moving on to Fairyhouse on Sunday where the Gordon Elliott-trained novice chaser Envoi Allen continues to look uncomplicated in every way. He was brilliant over his obstacles whether going short or long; as a consequence of this facile success, he is now as short as 6/4 for the Marsh Novices' Chase.
He led all the way in the Grade 1 Drinmore Novice Chase against, in essence, 140 rated rivals; consequently, Envoi Allen has not achieved any more than he would have been expected to do. Arguably, the only flaw in his profile is that he is yet to compete in a competitive race against 150+ rated rivals over fences.
I am rarely interested in supporting short-priced horses in Cheltenham Festival ante-post markets; particularly at such an early stage of the season. However, to help me consider possible strategies for the Grade 1contests in March, I do find it helpful to compare and contrast the relative claims of horses trading at similarly short prices for the big races.

Epatante, Envoi Allen and Shishkin (who we discussed last week) are all currently available between 6/4 and 7/4 for their respective Cheltenham Festival targets. I would suggest that the two novice chasers are much further clear of their potential rivals at this stage, compared with the reigning Champion Hurdler. Furthermore, I could see either or both of them trading as strong odds-on favourites should all go well beyond the New Year. There is also the significant potential for Envoi Allen and Shishkin to frighten off the opposition and, as a consequence, face very few rivals in the Marsh Novices' Chase and the Arkle Chase respectively.
Conversely, Epatante has yet to prove that she is ahead of Saint Roi, Abacadabras, or indeed, Honeysuckle should she be dropped in trip to contest the 2021 Champion Hurdle. If we add to the mix, Goshen, the exciting juvenile from last season, alongside whatever else the Mullins and Elliott camps target at the fourth race on the opening day of the Festival; clearly, as good as Epatante undoubtedly looked in the Fighting Fifth Hurdle, she will certainly have plenty of worthy rivals lining up against her in March. I do not think the same can be said for either Envoi Allen or Shishkin.

Is the Albert Bartlett form the key to the Stayers Hurdle?
From its inception in 2005, the Albert Bartlett Hurdle had a dismal record as an indicator for future success in the Stayers Hurdle up until 2017, with no winners during that time period. This poor record has been turned on its head in recent years with each of the last three winners of the Stayers Hurdle all having competed in the previous year's Albert Bartlett. This is too small a sample size to be getting carried away; however, it is still an interesting development.
If the 2020 Albert Bartlett Novices' Hurdle is to have an impact on the outcome of the 2021 Stayers Hurdle then the four horses that drew clear of the rest in March are surely the ones to focus on. Of the four, Monkfish looked good over fences at the weekend and is heading for the RSA Chase at this moment in time. Likewise, Latest Exhibition is still viewed as a novice chaser by connections despite getting stuck in the mud last time out at Punchestown. This leaves Thyme Hill and Fury Road as the obvious two to focus on from that group.
As a consequence of having just 'sparkled' in the Long Distance Hurdle at Newbury on Friday, Thyme Hill is now the 5/1 joint favourite for the 2021 Stayers Hurdle alongside Paisley Park, who finished runner-up at Newbury.
As mentioned at the beginning of week one in this column:
"When analysing ante-post markets, it is better to be considering those horses one feels are about to be seen in their best light – rather than take note of a horse after it has just put up a sparkling performance".
Clearly both Thyme Hill and Paisley Park will be viewed by most as two of the strongest contenders for March, and understandably so. However, now is not the time to get involved with either horse.
The 2021 renewal of the Stayers Hurdle has few very strong contenders according to the market and two of the main ones, Sire Du Berlais and Fury Road are likely to take each other on at Leopardstown in the Grade 1 Christmas Hurdle on 28th December. A comprehensive success from either of that pair will surely result in them joining, or at least moving closer to Thyme Hill and Paisley Park at the head of the Stayers Hurdle market.
Prior to Christmas, the first and second in the Long Distance Hurdle could easily take each other on again in the Grade 1 Long Walk Hurdle at Ascot on 19th December. The percentage call has to be for little to change at the top of the Stayers Hurdle ante-post market between now and 19th December.
There is no doubt that Thyme Hill did not enjoy the smoothest of runs in the latter stages of the 2020 Albert Bartlett Hurdle; however, I am sure that connections of Fury Road will feel that he might enjoy a kinder trip round on another day compared with the one he endured in March. My post-race notes on Fury Road are pasted below:
"Fury Road was arguably in much the worst position of the first four home as they approached the second last hurdle. He was stuck behind several horses and was clearly short of racing room. He could not be described as being unlucky as his position at this point of the race was down to his own making. He still had to make up two or three lengths on the leaders from two out and he did well to hit the front in the final 100 yards. Unfortunately the two on his outside rallied close to the finish to leave him in third spot at the post. He did make his move on the inside of the three leaders on the approach to the final hurdle which also may have been a disadvantage, given how all the races over hurdles panned out in the closing stages on that day."
I would suggest that both Thyme Hill and Fury Road hold strong chances of finishing in the first three or four places in the 2021 Stayers Hurdle. Moreover, I have no strong view either way as to which of the pair holds the best chance of success. The current market, however, suggests something very different, as Thyme Hill is a 5/1 shot whilst Fury Road is available at 14/1 and more generally available at 12/1. However, if their respective performances last March are anything to go by then there is unlikely to be much between them again at the 2021 Cheltenham Festival.

Another repeat winner of the Stayers?
Since the early 1970's horses like Crimson Embers, Galmoy, Baracouda, Inglis Drever and, of course Big Buck's have all won more than one renewal of the Stayers Hurdle. One can understand why certain horses are simply suited to this Grade 1 contest as the race can often result in a more gruelling test of stamina compared with the trial races which precede it through the season.
This factor has to be in favour of the 2019 Champion Paisley Park who is the current joint favourite at 5/1. The point with him is that he is now a relatively short price because he has recently managed to show his worth in an acknowledged trial. But what if a former champion is only likely to perform to his optimum in a three mile slog in a race run at a brutal gallop? The qualities of a horse like that are more likely to be disguised right through the season up until the day that matters.
Step forward the reigning Champion Lisnagar Oscar who finished down the field in the Long Distance Hurdle on Friday.
Lisnagar Oscar will have been, perhaps, the most inconvenienced by the pedestrian pace up until the winning post first time around at Newbury. He was ridden very positively from thereon in and was actually in front at the third last hurdle. He was soon left behind by much quicker horses and was not given a hard time of it once beaten. I don't rate his 2020 Stayers Hurdle success particularly highly; however, the market response to him after his first two runs of the season is much more pessimistic than my view.
This could make Lisnagar Oscar more interesting at a price in the right race; moreover, the two races more likely to suit him are the Cleeve Hurdle and the Stayers Hurdle. In an ideal world he will need testing ground and a brutal gallop to give him his best chance. Last season those two races were both run on ground officially described as soft; however, after being outpaced in the Cleeve Hurdle, Lisnagar Oscar comprehensively reversed that form with Paisley Park and Summerville Boy in March in a race that was run in a time more than 20 seconds quicker.
He had no chance off the slow early gallop at Newbury on Friday and is now available at 40/1 and 50/1 for the Stayers Hurdle as a consequence. Whatever my feelings about the quality of the 2020 Stayers Hurdle race, Lisnagar Oscar's elevated odds are simply far too big for the reigning champion of a race where multiple winners are so commonplace. If the Cleeve Hurdle happens to be another trial race run at a pedestrian pace his market odds could be bigger still in early February.

Is Ballyadam a worthy favourite for the Supreme?
It should not make any difference that Ballyadam is owned and trained by the same connections as Envoi Allen. It sometimes does, however, at least in terms of how the market can often respond in certain circumstances. Ballyadam did win the Grade 1 Royal Bond Novice Hurdle at Fairyhouse on Sunday with a bit in hand; however, he does not present as being well clear of the rest as Envoi Allen seemed to be at the same time last year. That said, perhaps his Cheltenham Festival target is far more obvious than it appeared to be for Envoi Allen immediately after the 2019 renewal of the Royal Bond?
Ballyadam might be better still with a stronger pace to go at compared with how Sunday's race panned out in the early stages; however, so might one or two of the beaten horses in behind. I would suggest he has won a little snugly from two horses rated 138 and 137 respectively. This may translate into a mark up to 145 which will still leave plenty of trainers hopeful, that they might have a novice able to compete to that level or even beyond.

He was actually a lot slower from the first hurdle to the winning line compared with the winner of the juvenile hurdle on the card. Conversely, the fact that he was around eight lengths quicker than Zanahiyr from four out to the line emphasises the pedestrian pace followed by the relative sprint finish in the Royal Bond; which is how it looked to the eye. Whatever the pros and cons of this winning performance he will need to show a different skill-set when faced with a likely end to end gallop in a Festival race. He may be better still when competing off a faster pace; nonetheless, so might the third horse to finish N'Golo. Interestingly enough Ballyadam has been supported down to 6/1 favourite for the Supreme Novices' Hurdle as a consequence of this success; whilst the hard-pulling N'Golo was beaten two lengths on Sunday and is available at 25/1.