All change in the Champion Hurdle market
The ante-post market for the Champion Hurdle was blown apart over the festive period with the shock defeat of Epatante in the Grade 1 Christmas Hurdle at Kempton followed a few days later by disappointing performances from both Saint Roi and Abacadabras in the Grade 1 Matheson Hurdle at Leopardstown.
Prior to her Boxing Day defeat, Epatante had been trading as short as 6/4 for the Champion Hurdle. However, after finishing six and a half lengths behind Silver Streak she was immediately available at a much more attractive looking 11/4; moreover, she is currently trading as the 9/4 favourite.
I had thought she was much too short at 6/4 with both Saint Roi and Abacadabras looking dangerous as the joint second favourites. I would suggest she looks much more interesting now at 9/4 with Sharjah as the next best in the market. She finished well clear of that horse in the 2020 Champion Hurdle and Sharjah's best chance of reversing the form would be in the unlikely event of the ground riding good on the opening day of the festival.
Although Epatante's supporters were, no doubt, disappointed to see her finish so far behind Silver Streak at Kempton; in my view she was simply beaten by a top class horse with conditions finally in his favour and who also poached a six lengths lead as early as the second hurdle.

The Evan Williams horse then simply maintained that sort of advantage throughout the race. Silver Streak finished well beaten by Epatante on soft ground in the 2019 renewal of the Christmas Hurdle. The fact that the 2020 race was run in a time eight seconds quicker (and therefore on much faster ground) is probably the most important factor in this reversal of form.
When comparing the Christmas Hurdle with the Get Your Ladbrokes £1 Free Bet Novices' Hurdle won by Third Time Lucki on the same Kempton card - Epatante ran about 15 lengths quicker compared with the Dan Skelton novice from the first hurdle to three out; from there to the line she still managed to run a little quicker than Third Time Lucki. I doubt the reigning Champion Hurdler did an awful lot wrong and suspect Epatante simply had an extremely difficult task making up that deficit on Silver Streak from two out to the line on ground that may have been faster than ideal. Epatante remains comfortably the strongest contender for the 2021 Champion Hurdle.
The Cheltenham Trail Form Book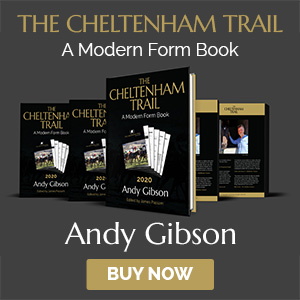 Andy Gibson's new book takes readers through the 2019/2020 National Hunt season as viewed by members of his Cheltenham Trail website. It is a 400+ page hard back reference style book with added stories, strategies and philosophies.
With forewords from Philip Hobbs and Mick Fitzgerald plus previews and reviews throughout the winter culminating in the 2020 Cheltenham Festival, A Modern Form Book is a must read for any horse racing enthusiast.
A match-betting opportunity
Silver Streak is now as short as 8/1 for the Champion Hurdle which creates the possibility of a couple of interesting match bets. I have to confess that Silver Streak is one of my favourite horses in training; nevertheless, his chances in March are extremely ground dependent. He will hold a strong chance of finishing in the first three or four on good or good to soft ground. The softer the ground the more concerns I will have about him. If the ground is testing and he is matched up with Song For Someone or Ballyandy he will probably be a strong favourite to beat both. Personally, I would be happy to have either of those on my side against the Evan Williams stable star, providing the ground is soft; those potential bets would look even more attractive on heavy going.
An under-estimated outsider?
Ballyandy is now completely forgotten about in the Champion Hurdle ante-post market. This has a lot to do with his apparently disappointing performance at Kempton on Boxing Day; however, the drying conditions round a speed oriented track were never going to be in his favour. He has proved to be an extremely consistent horse over the last two seasons when competing over the minimum trip in soft or heavy conditions. His form figures in such circumstances read: 2 3 1 8 2 3 – and his only disappointing effort in that sequence came in the 2020 Champion Hurdle.
My post-race notes for that contest are copied below:
"He has finished about where he should have done in comparison with Silver Streak and Pentland Hills; which implies he may have run his race. However, he competed next to the inside rail throughout and on the balance of the week this was probably a major negative for his chances".
On the opening day of the festival it was not obvious that the inside rail would be a disadvantage on the hurdles course. By the end of the four days, however, it was fairly clear that the inside rail was not the place to be when competing over the smaller obstacles; especially from two out to the line.
Why Do I Believe This To Be True?
Below is an extract from 'The Cheltenham Trail – A Modern Form Book'
"Mainly through spending many hours over each summer analysing the previous winter's racing with a view to developing my understanding of potential track biases at any of the courses I bet on during the National Hunt season proper. I watch and re-watch every race in its entirety, and then stop the action at several pre-determined points of the race to consider each horse's track position. At each point, I make note of how far every key horse is away from the inside rail, and also whether he/she is at the front, tracking, close to the middle, or towards the rear. Of course, I then note the finishing position of each contender.
I have completed my 'track bias' work for the 2020 Cheltenham Festival and have a list of horses that were aided by their relative track positions, and a second list of horses that I believe were disadvantaged by their positioning through the race. These lists are not an end in themselves; rather a platform from which to begin my future studies".
Ballyandy is on the second list as I strongly suspect he was disadvantaged by his track position through the 2020 Champion Hurdle. I am not suggesting he is close to the top of my list as a potential winner of the 2021 renewal; however, if the ground is testing on the opening day of the Cheltenham Festival, I believe there is a reasonably strong chance we will see him seriously out perform his current odds of 50/1 and finish in the prize money at worst. Consequently, I hope to have the opportunity of supporting him in one or two match bets or other exotic markets on the day of the race.


Lies, damned lies and Tolworth Hurdle statistics
Metier is now the clear 7/1 second favourite for the Supreme Novices' Hurdle in most books after his exciting looking success in the Unibet Tolworth Hurdle at Sandown. I am sure most of us will have heard plenty of talk regarding the poor record of Tolworth winners at the Cheltenham Festival. A quick look at the previous ten winners of the Tolworth and one can, at least, understand how this talk originated.

Minella Class was a wide margin winner at Sandown in 2011 and won one of his subsequent 16 races – a Beginners Chase at Aintree almost two years later. Impressive winners like Melodic Rendezvous, L'Ami Serge and even last year's winner Fiddlerontheroof did not live up to the immediate post-race expectations of the commentators and pundits in their subsequent racecourse appearances. Maybe it can still happen for Fiddlerontheroof who might yet run a career best in the upcoming Grade 1 Scilly Isles Novices' Chase at Sandown.
Captain Conan won that very race a year after his 2012 Tolworth Hurdle success. In fact the Nicky Henderson-trained son of Kingsalsa only won four subsequent races and two of those came when competing in Grade 1 races on testing ground at Sandown. This is no coincidence; as competing on testing ground at Sandown can be very different from racing in similarly taxing conditions elsewhere – hence, the relatively poor record of Tolworth Hurdle winners at the Cheltenham Festival.
The extremely talented Yorkhill had to be stepped up in trip to win at Cheltenham in March 2016; whilst Summerville Boy also bucked the trend when managing to win the Supreme Novices' Hurdle after smashing through almost as many hurdles as he jumped in 2018.
If we compare this weekend's race with the 2020 renewal of the Tolworth – Metier beat a 130 rival by 12 lengths and has run to a rating of around 142; in 2020 Fiddlerontheroof ran to a very similar mark in beating the 136 rated Jeremys Flame by six lengths. Interestingly enough, the handicapper raised Fiddlerontheroof to 152 after his Tolworth success; whilst, Metier is now on a mark of just 149 after his victory at Sandown on Saturday.
My notes on Fiddlerontheroof after his 2020 Tolworth Hurdle success read:
"This performance was very pleasing to the eye and also had plenty of merit on the clock. He ran a similar time to stable companion Eldorado Allen (runner up in the final race) from the first hurdle to the second last. From there to the line he was around fifteen lengths quicker than the 145 handicapper who was carrying 5lbs more in weight. If we took this one indicator literally then Fiddlerontheroof could have run a few pounds above 150 here which would put him in with a strong chance in an average renewal of the Supreme."
"There are a few mixed messages from this contest and ultimately it comes down to how the market responds in future. In beating the 136 rated Jeremys Flame by six lengths he has done no more than one would expect of a horse likely to finish in the prize money in the first race of the festival. Conversely, the Gavin Cromwell mare finished well clear of Heaven Help Us and on a line through that mare, Fiddlerontheroof would hold a significant edge over Abacadabras. Personally, I would suggest that he has an extremely solid chance of finishing in the first three in the Supreme on heavy going. The quicker it goes from that starting point the more concerns I will have regarding his speed for the two miles. On goodish ground we might even see him in the Ballymore".
Metier was also much quicker than the 141 Friend Or Foe who finished runner up in the same race that Eldorado Allen contested in 2020 – another similarity between the two performances.

Conversely, one of the important differences between Metier and Fiddlerontheroof is that the Colin Tizzard horse came from the point-to-point field whilst Metier was successful on the flat. The Harry Fry-trained five-year-old managed to win a Gowran Park Maiden race over just shy of a mile and a quarter on yielding to soft ground. Hopefully, the combination of this flat speed and his ability to stay well in testing ground at Sandown will result in Metier faring better than Fiddlerontheroof managed in the 2020 Supreme Novices' Hurdle.

So is there strength in depth in this year's Supreme
I would suggest that the 2021 Supreme Novices' Hurdle does not appear to have as many viable contenders as the 2020 renewal did at this same stage of the season. Consequently, one can understand why Metier is trading at such a relatively short price. Nonetheless, I do not see him as an ante-post proposition as he will surely need soft ground at Cheltenham to show him in his best light. Furthermore, I am not sure much would be gained by backing him now as he could well remain an each-way price much closer to the day; providing nothing goes wrong, in the meantime, for the current favourite Appreciate It.
The statistics for Tolworth Hurdle winner's chances of success at the Cheltenham Festival are generally quite damning. However, as interesting as trends and stats can be for research purposes, they can only act as a platform to begin our studies – they are not an end in themselves. The more work we put in; often the more complex the story becomes. Each horse is an individual and needs to be treated as such; at the same time the 'Tolworth stats' are of interest because they are partly a reflection of the difficulty in translating heavy ground Sandown form to other tracks and conditions.
Generally speaking, I tend to treat all heavy ground form at Sandown with a degree of caution when analysing races away from the Esher course. Consequently, whether a testing surface at Cheltenham will be enough in itself to see Metier go close in the Supreme Hurdle remains to be seen; perhaps, like Captain Conan he will need to return to the scene of his Tolworth Hurdle success before reproducing the quality of this performance?