Is Festival form all-important?
The obvious answer to that question would probably be a negative one in most situations; however, perhaps the response would be a more positive one for some horses.
If we look at the profile of Melon, for example, we will notice that his form figures, not including Cheltenham in March read: 1 2 1 3 5 F 4 4 F 7 0 2 1 4 3 – which means he has won just once in his latest 12 races; furthermore, he has finished well beaten in several of those contests. This is a remarkably poor record for a 159 rated chaser with an incredible Cheltenham Festival record next to his name. Melon has finished as the runner-up in each of the last four Cheltenham Festivals and all four of those races were Grade 1 contests. He went down by a neck to Buveur D'Air in the 2018 Champion Hurdle and was even more unfortunate to lose by a nose to Samcro in the 2020 Marsh Novices' Chase.
We did not get to see much of Melon's seasonal debut run in the Grade 1 John Durkan Memorial Chase due to the heavy fog; however, his close up third place finish was an extremely positive outcome for a horse with his previous early season record.
Melon's obvious target for March 2021 is the Ryanair Chase for which he is currently generally available at 20/1. The Mullins' team have ran him at the Leopardstown Christmas meeting plus the Dublin Racing Festival in each of the last two years; therefore, there must be a reasonable chance he will follow the same path again this season. He finished well beaten in three of those four races and scrambled home in a relatively minor Beginner's Chase in the other. If Melon follows his usual level of performance in his next two races, he could be an even bigger price for the Ryanair Chase, with the added security of the Non-Runner-No-Bet (NRNB) rule likely to be well in place, by early February.
My post-race notes after Melon's 2020 Cheltenham Festival defeat read:
"Melon's performance was just as good as the winner, Samcro, and the nose between them could just as likely have gone the other way. Melon has posted a much quicker time than Min (in the Ryanair Chase) over the final circuit and from his first fence to the line. Now that he has shown he stays this longer distance one would imagine that he will be campaigned over intermediate trips next season. The Ryanair Chase will be the obvious spring target for the 2021 Cheltenham Festival."
"Melon's previous record in the last few years is worth remembering. Aside from a less than impressive success over Gallant John Joe in a Beginners Chase at Leopardstown in December 2019, he has now racked up 13 defeats since his previous victory in a relatively weakly contested Grade Two hurdle race two years earlier."
"On the plus side Melon has now finished as the runner up in four Cheltenham Festival Grade 1 races in a row which is an incredible achievement. Whatever he accomplishes during next winter he will have to be on the short list for March 2021 based on that previous Cheltenham Festival record. In the Marsh Novices' Chase Melon did slow into the last fence whilst searching for a stride, and this may well have cost him the race; aside from that his jumping was brilliant. Of course, one could just as easily suggest that Samcro might have won by half a length if getting the second last fence right".

The Cheltenham Trail Form Book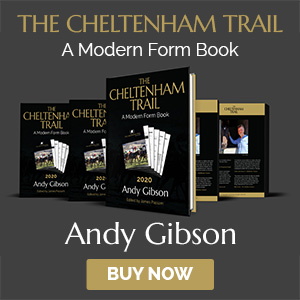 Andy Gibson's new book takes readers through the 2019/2020 National Hunt season as viewed by members of his Cheltenham Trail website. It is a 400+ page hard back reference style book with added stories, strategies and philosophies.
With forewords from Philip Hobbs and Mick Fitzgerald plus previews and reviews throughout the winter culminating in the 2020 Cheltenham Festival, A Modern Form Book is a must read for any horse racing enthusiast.

A Ryanair Chase favourite to oppose?
Back to the John Durkan Memorial Chase where Min apparently made all or most of the running before being driven out from the last fence to fend off his 153 rated stable companion Tornado Flyer. I had no strong pre-race view as to what the outcome might be for this Grade 1 Chase; however, I was very happy to see Min come home in front. As mentioned in an earlier column I am not convinced that Min will see out the Ryanair Chase trip if faced with better quality rivals with proven stamina. I am not certain on this point; nevertheless, the shorter Min is in the market in March the happier I will be to find something to oppose him with.
As a consequence of his John Durkan success Min is now the joint favourite for the Ryanair Chase with some firms. His jockey stated that he jumped well throughout at Punchestown and, if we had been able to witness this ourselves, I suspect the Ryanair Chase market response would have been even stronger.
Presumably we will next see Min in the Ladbrokes Dublin Chase in early February. Hopefully he will run well there; because the shorter Min trades in the Ryanair Chase ante-post market the more this will leave the door open to consider supporting one or two high class chasers with, arguably, more proven stamina in the book.


Allmankind versus Politologue
When comparing the Henry VIII Novices' Chase and the Tingle Creek Chase from fence to fence, Allmankind was around ten lengths clear of Politologue as he jumped the third fence. The Tingle Creek winner then quickly closed that gap down the far side before losing ground again by the time the Dan Skelton novice chaser jumped the second last fence. At the winning line Allmankind finished about six or seven lengths clear of Politologue.
Having established that Allmankind was quicker than the reigning Champion Chaser from their respective first fence to the winning line; presumably, this has to make him a viable contender for the Arkle Chase?
Perhaps, it does; however, if we take a quick look back at previous time comparisons between winners of the Henry VIII Novices' Chase and the Tingle Creek Chase we may not be so quick to pass judgement either way.

In 2019 Esprit Du Large matched Defi Du Seuil when comparing them from their respective first fence to the winning post. One year on and the 2019 Tingle Creek Chase winner is still rated 17lbs clear of the Evan Williams chaser who has failed to win in three subsequent races since that Grade One success. In 2018 the time comparisons were irrelevant as it rained heavily between Dynamite Dollars' success and Altior's victory.
Onto 2017, where Sceau Royal was around half a dozen lengths behind Politologue at the third fence and a similar margin in front of the Tingle Creek Chase winner at the winning post. Sceau Royal subsequently finished just behind Politologue in the 2019 Champion Chase and was, more recently, beaten 45 lengths by the Paul Nicholls horse in March 2020. Clearly the fact that both of those Champion Chases were run on soft ground was massively against the chances of a good ground horse like Sceau Royal.
Nevertheless, maybe this highlights a very significant point in that; as interesting as a superior time figure for one horse over another rival on any given day is; that time difference is only one indicator amongst many that require our consideration when assessing the future prospects of the two horses being compared.
Perhaps, an important distinction between the reliability of this season's Sandown time comparisons compared with the previous renewals discussed is that both Allmankind and Politologue made all the running in their respective chases and, therefore, neither was at the mercy of a pace set by another horse.
What I would suggest about Allmankind is that he is currently priced up at 10/1 for an Arkle Chase where it is very difficult to see more than three or four serious contenders developing between now and March. In addition, the race has an extremely strong favourite at the head of affairs who is likely to scare off a few potential rivals. Consequently, it is not hard to envisage the 2021 Arkle Chase being another small field affair with an odds on favourite in Shishkin and only a couple of possible dangers lurking in behind. Allmankind will very likely be one of those dangers providing he stays fit and healthy between now and March.


What about the reigning Champion Chaser?
Despite that negative time comparison, Politologue did plenty of things right at Sandown so it is, perhaps, a little surprising to see him still trading close to a double figure price for the Queen Mother Champion Chase given the lack of significant challengers.
Because he is suited to competing as a fresh horse the percentage call has to be that we will not see Politologue again prior to March. Consequently, if he is the one for you I doubt much will be lost in his price between now and the NRNB rule coming into play.


Chacun Pour Soi – A worthy Champion Chase favourite?
On Sunday at Cork there was never really a moment's concern for those that took the very short odds about the favourite Chacun Pour Soi in the Grade 2 Hilly Way Chase. He jumped and travelled well throughout and never looked in danger as he comfortably made his way to the front before being eased after the last fence. The two that departed at that final fence merely accentuated his winning margin as they were both already well beaten at the point of their exit.
When comparing times from their respective first fence to the final bend, Chacun Pour Soi was about ten lengths clear of the mare Mount Ida who won the following race on the Cork card. The mare had caught up most of that deficit on the eased Chacun Pour Soi as the Hilly Way winner hit the line. Maybe the time comparison is simply another indicator of the ease of his task in beating a stable mate whose main aim was a clean round of jumping (Cash Back) coupled with an overly keen front runner (Djingle) who is rated just 143 over fences.
The demise of those two at the last fence left Darasso to chase him home; personally, I suspect that horse is being prepared for something further down the line. In essence Chacun Pour Soi's success in the Grade 2 Hilly Way Chase merely confirmed his wellbeing on his way to Leopardstown on the 27th December.
As a consequence of this success Chacun Pour Soi is now as short as 5/2 for the Queen Mother Champion Chase which does seem to be remarkably tight. There is certainly a fair bit of 'by default' attached to his current place in that ante-post market. He has won four of his five chases whilst under the care of his Irish trainer Willie Mullins; moreover, he suffered his only defeat in that sequence on his seasonal debut in the Grade 1 Paddy's Rewards Club Chase at Leopardstown in December 2019.
He ran like he needed that first race which is presumably why he was given this prep run before returning for that same Grade 1 Chase over Christmas. The 2020 renewal is building up to be a much stronger race with the likes of A Plus Tard, Put The Kettle On, Min, Melon and Notebook all in the early entries.
Given the absence of Altior in the Grade 1 Tingle Creek Chase at Sandown on Saturday one can understand why the Champion Chase was in desperate need of a high-class chaser to step forward to the head of the market. Chacun Pour Soi's lofty reputation is mainly based on his defeat of Defi Du Seuil in the Ryanair Novice Chase at Punchestown in May 2019 and his victory over Min in what was essentially a match at the 2020 Dublin Racing Festival. We now understand that Defi Du Seuil is perfectly capable of running below par and that the nine-year-old Min is probably not quick enough to trouble the best over the minimum trip.

As promising as Chacun Pour Soi's profile appears to be; it does not add up to him being a short-priced favourite for the Champion Chase. Furthermore, the fact that he has clearly not been straightforward to train and was forced to miss the 2020 Cheltenham Festival due to a setback is not acknowledged in any way in his price of 5/2. His next run over Christmas at Leopardstown should be very informative; consequently, the ante-post market for the 2021 Champion Chase could look very different immediately after the Grade 1 Paddy's Rewards Club Chase on the 27th December 2020.