Is Paisley Park now a worthy favourite for the Stayers?
The outcome of the Grade 1 Long Walk Hurdle at Ascot on Saturday seriously impacted upon the ante-post market for the Stayers' Hurdle at the Festival. The race did not pan out well for Paisley Park which resulted in him giving several lengths start to Thyme Hill and still managing to get up close to the finish to prevail by a neck.
It is a long way from the second last hurdle to the winning line at Cheltenham and one can imagine Paisley Park making up plenty of ground on his main rivals in the latter stages of the Stayers' Hurdle. On the evidence before us at this point in time, he is the worthy favourite for the Stayers' Hurdle. He is currently available at 7/2 and I thought it was a little surprising not to see him trading shorter still.
Maybe the connections of Thyme Hill will feel that he hit the front sooner than ideal at Ascot and thus offered Paisley Park an easier target than he otherwise may have been faced with? It would certainly be no surprise to see Thyme Hill held onto for longer in March. It is also important to remember that Thyme Hill is only just out of his novice season and is, perhaps, the most likely of the pair to continue on an upward curve between now and March.


Paisley Park was closing in rapidly on him in the Grade 2 Long Distance Hurdle at Newbury off a sedate pace; likewise, the Emma Lavelle-trained eight-year-old made up plenty of ground on Thyme Hill from the second last hurdle to the winning line in the Long Walk. I doubt either of those experiences will be lost on the connections of Thyme Hill. The score currently stands at one apiece between the pair and the decider in March should provide a fascinating tactical duel.
The Cheltenham Trail Form Book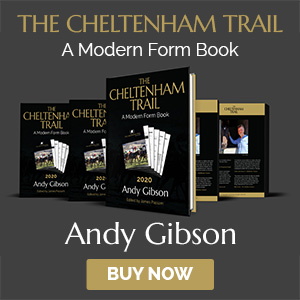 Andy Gibson's new book takes readers through the 2019/2020 National Hunt season as viewed by members of his Cheltenham Trail website. It is a 400+ page hard back reference style book with added stories, strategies and philosophies.
With forewords from Philip Hobbs and Mick Fitzgerald plus previews and reviews throughout the winter culminating in the 2020 Cheltenham Festival, A Modern Form Book is a must read for any horse racing enthusiast.

Time to look left-field?
We are getting to that time of year when the next race for potential RSA Chase horses is going to be crucial in determining their connections' Cheltenham Festival plans - do they stay over fences or revert to hurdling?
Bearing in mind that the worthy second favourite for the Stayers Hurdle is Thyme Hill, it's worth revisiting the 2020 Grade 1 Albert Bartlett Novices' Hurdle - a race in which Thyme Hill finished fourth - where there there is probably not a lot between the first four horses to finish on that day.
The fact that the Albert Bartlett is run over the same course and distance as the Stayers' Hurdle adds plenty of substance to the possibility of the first four in the Albert Bartlett - Monkfish, Latest Exhibition, Fury Road and Thyme Hill - finishing within a few lengths of each other should they happen to meet again.
I covered this topic in a little more detail in Week Three of my At The Races Blog. I notice that Fury Road is still trading at 12/1 with many firms, which is three times the price of Thyme Hill..
The other two horses that finished in the first four in the 2020 Albert Bartlett are Monkfish and Latest Exhibition both appear to be headed for the RSA Chase at present. They actually finished in the first two places last March and an uninspiring round of jumping on either horse's next start might give connections something of a dilemma.
This is particularly the case with Latest Exhibition who was well beaten last time out over fences and whose chase form has not worked out very well thus far. In that last time out defeat, the heavy ground was blamed for his relatively workmanlike performance. There may be plenty of truth in this; at the same time, I am not sure what his connections will do if Latest Exhibition is easily brushed aside by Monkfish on his next intended start in the Neville Hotels Novice Steeplechase at Leopardstown on 29 December.
That said, if either horse finishes well beaten by the other over Christmas it would not be too much of a leap of faith to envisage the relevant connections turning their attentions to the Stayers' Hurdle market with Thyme Hill currently standing alone as the second favourite.
Both horses are likely to be available at much bigger odds on the exchanges for the Stayers Hurdle compared with the bookmakers. For the record, Monkfish is a best priced 50/1; whilst Latest Exhibition is currently available at 25/1. I do not have a particularly strong view on either horses' chance of ending up in the Stayers Hurdle in March; however, I do think it is interesting and worthwhile to get into the habit of considering the profiles of a few highly regarded novice chasers with very little experience over the larger obstacles.


What about the reigning champion?
Whilst we are considering the claims of one or two outsiders that may or may not take their place in the Stayers' Hurdle, I thought it worth remembering that the reigning champion will surely defend his crown if remaining fit and healthy; surprising then, that Lisnagar Oscar is still available at 50/1 with one or two firms. I discussed my thoughts on Lisnagar Oscar in some detail in Week Three of my ATR Blog.


Some thoughts on the Ryanair Chase
Below is an extract from 'The Cheltenham Trail – A Modern Form Book'.
"Availability Bias is often a term used by psychologists to define how recent evidence is often at the front of our minds and therefore more easily retrievable. This can occasionally lead to this information being given more importance than it deserves in relation to older information.
An example of this might be when a hot favourite for a race at the Cheltenham Festival is so strong in the market mainly due to a particularly positive performance at the Ascot meeting in the third week of February. We might know that the horse in question is clearly better when racing as a fresh horse and yet if that February performance was out of the ordinary this other information is often, at least initially, overlooked in how the market is first presented. The interesting anomaly at work here is that the more extreme the positive performance in February, the shorter in the market for March, and the more likely that effort will have a detrimental effect on a horse that is usually best when fresh.
Another example of how the market can occasionally move in the wrong direction.
In the 2009 Betfair Ascot Chase, Voy Por Ustedes ploughed through the heavy ground to beat inferior rivals by 14 lengths and more. This was far from the strongest renewals of this Grade 1 chase; at the same time, the Alan King eight-year-old did appear to be particularly impressive as he cruised clear from the turn for home. As a consequence of this exciting performance, Voy Por Ustedes started as the 4/5 favourite for the Ryanair Chase one month later. The fact that the Cheltenham ground was more like good to soft on that day and therefore very different to Ascot was rather overlooked. In my experience a super impressive-looking effort on very deep ground is rarely a platform for a similarly impressive-looking performance a few weeks later; even more so when the conditions on the second day have little to do with what was required to look so scintillating in the earlier race.
The following year Master Minded won the Grade 2 Game Spirit Chase (which was run later than usual) by 13 lengths in the middle of February. He would have won by even further but for blundering badly at the final fence. Consequently, he started as the 4/5 favourite for the Champion Chase four weeks later.
The point in both examples is not that the two horses mentioned could not have won at the Festival. It is simply that they were trading at a much shorter price than their profiles merited due to a spectacular recent run that more likely detracted from their chances in the second race rather than increased their claims, as the market implied".
Below is a more recent example
Caribean Boy won in spectacular fashion in the Grade 2 Ladbrokes Committed To Safer Gambling Novices' Chase at Newbury at the end of November 2020. My post-race notes read as follows:
"Although only three runners took part in this Grade 2 Chase, the time comparisons with the Get Your Ladbrokes £1 Free Bet Today Handicap Chase won by Clondaw Castle imply that this was a high-class renewal. Certainly, the first two to finish here come out very well when comparing them from the first fence to the winning line with the Tom George-trained 151-rated handicapper.
Caribean Boy was around seven seconds in front of the handicap winner halfway down the far side and maintained that sort of advantage all the way to the line. He jumped brilliantly apart from getting in too close to the sixth-last fence. The Caspian Caviar Gold Cup would be an interesting test with the Ryanair Chase in mind in March. The only issue might be whether or not he will need more than the 15 days gap between this race and 12 December to recover. Although Caribean Boy appeared to be racing within himself and not expending too much energy, the time comparisons strongly suggest otherwise. A top-class performance like this is not often followed by another one of equal quality just two weeks later".
The pre-race noises from the Seven Barrows yard suggested that Caribean Boy might need his first run of the season. Immediately after the Newbury race Nicky Henderson stated:
"I'd have sworn he'd have needed the race because he's a gross horse and he loves soft ground"
He went on to say:
"The Caspian Caviar Gold Cup at Cheltenham in two weeks will probably come a touch too soon for him".
The fact that Caribean Boy put up such a scintillating performance on the clock at Newbury, whilst competing on ground faster than ideal, is massively to his credit. The strong probability that he needed the race and yet ran so much faster than the (now) 155-rated Clondaw Castle, adds further substance to the quality of his Grade 2 victory. At the same time, however, all of these factors would not have furthered his claims next time if brought back sooner than ideal. Nicky Henderson suggested that the Caspian Caviar Gold Cup just 15 days later would come too soon; consequently there has to be a reasonably strong chance that 22 days in between races was also not enough for Caribean Boy and that could be the reason for his defeat in the Injured Jockeys' Fund Graduation Chase at Ascot on Saturday.
In retrospect, Caribean Boy was an odds-on favourite for a race on the strength of a recent career-best performance that has probably hindered his claims of winning the more recent race rather than improved them, as the market suggested.


Best Chance For Fiddler At Sandown?
Perhaps we were also given another clue on this potential outcome the day before when the short-priced favourite, Fiddlerontheroof, managed to look one-paced from the final fence to the winning line when getting brushed aside by the chasing debutant Allart in the Grade 2 Sky Bet Noel Novices' Chase at Ascot. This issue is rather clouded by the fact that Fiddlerontheroof has appeared to be a little one-paced on more than one previous occasion. The next time we see both Allart and Fiddlerontheroof will hopefully bring some fresh evidence to the table.
The Colin Tizzard-trained six-year-old ran close to Caribean Boy all the way round at Newbury and so could also have been feeling the effects of that extremely positive performance on the clock. Maybe, even more so when one considers Fiddlerontheroof's record would strongly suggest he will be at his best on much softer ground than the good going he competed on at Newbury. At this stage I do not particularly see Fiddlerontheroof as a Cheltenham Festival horse; however, I would suggest that the Grade 1 Scilly Isles Novices' Chase at Sandown on 6 February is likely to offer his best opportunity of Grade 1 success this season – providing he gets to compete in his ideal testing conditions.


Hindsight is a wonderful thing...
Back to Caribean Boy, who in retrospect only, may have been feeling the effects of his previous run when finishing last of three on Saturday at Ascot. However, more importantly, can we learn anything from this with regard to the future?
The first point I would like to make is that Caribean Boy's apparently poor performance is another one that is relatively easy to forgive. As a consequence of his display on Saturday he can now be supported at odds of 40/1 for the Ryanair Chase. Although I don't hold any strong feelings either way regarding his Cheltenham Festival claims, at the same time I would suggest that, if he was high on anyone's shortlist for the Ryanair Chase prior to Saturday, he should still retain his position on that list after his last of three finish at Ascot. If we next see him after a break of more than four weeks I would be very hopeful that we will see a much improved performance from him. As he is no longer a novice chaser, however, he will not be renewing rivalry with Fiddlerontheroof at Sandown on 6 February.
Perhaps a more obvious next target for him would be the Grade 1 Betfair Ascot Chase on 20 February 2021. If Caribean Boy happened to repeat the quality of his Newbury success and produce another excellent performance on the clock, he would very likely be elevated to a single figure price for the Ryanair Chase. The more outstanding his performance in the Betfair Ascot Chase, the shorter he is likely to trade for his Cheltenham Festival target, though that race which would be run 26 days later.
Or to quote from my Voy Por Ustedes strategy:
"The interesting anomaly at work here is that the more extreme the positive performance in February, the shorter in the market for March, and the more likely that effort will have a detrimental effect on a horse that is usually best when fresh".
Of course, the chances of all these pieces of the jigsaw coming together at the same time are relatively slim; nevertheless, we have the whole season and more horses than Caribean Boy to think about when considering this strategy.
After the way Imperial Aura jumped and travelled at Ascot the last time we saw him, it would be very understandable were his shrewd connections to head back to Ascot on 20 February. Another scintillating performance from him and he could be a very short price for the Ryanair Chase. One could equally point out that Imperial Aura put up a career best effort at Ascot when competing just 20 days after his Carlisle success on heavy ground. Every horse needs to be treated as an individual, and in the case of Imperial Aura; perhaps he is one of those horses that might benefit from two tough races inside a month?
The Paul Nicholls-trained Cyrname has previously proved himself most suited to competing round Ascot over an intermediate distance on testing ground. He has a good record when racing as a fresh horse and if he were to lead all the way and draw clear of his field in the Betfair Ascot Chase, he is another that could be very short indeed for his Cheltenham Festival target.
In the 2020 renewal of the Ascot Chase, Riders Onthe Storm arguably left his Ryanair Chase chances behind when slogging through the Ascot mud 26 days earlier, though I don't suppose the Twiston-Davies camp had too many regrets after they counted up the £97,447.50 prize money that was won at Ascot.