Irish pair harder to split than Ballymore betting suggests
Bob Olinger was an impressive looking winner of the Grade 1 Lawlor's Of Naas Novice Hurdle on 13th January. He was the 6/4 favourite for the race, whilst Ashdale Bob could be supported at odds of 9/2 at the off. The discrepancy in their respective prices was interesting to me given the difference in times the pair had posted on their previous outings. Both horses had competed over two miles and four furlongs at Navan on 18th December 2020 and Ashdale Bob was significantly quicker than Bob Olinger at every point of their respective races. Clearly, we cannot seriously mark Bob Olinger down just because he was fortunate enough to be gifted an extremely easy lead on that day in the Mervyn Gray Maiden Hurdle; nonetheless, the relative prices of the two horses was inevitably going to catch the attention of anyone that had compared the two Navan contests side by side.

Unfortunately, the reliability of those time comparisons was not put to the test at Naas after Ashdale Bob fell at the second hurdle. Gabynako finished third behind Bob Olinger in that Grade 1 contest and had previously finished a similar margin behind Ashdale Bob in at Navan. Gabynako's proximity to the winner in both races adds some substance to the possibility that there may not have been much between Bob Olinger and Ashdale Bob had the latter completed the race at Naas.
As a consequence of that early fall, Ashdale Bob is now trading at around five times the price of Bob Olinger for the Ballymore Novices' Hurdle and close to twice the price for the Albert Bartlett Novices' Hurdle. One would assume that his connections will not want to send him to Cheltenham on the back of that negative experience; therefore he would appear likely to take up his entry in the Grade 1 Nathaniel Lacy And Partners Solicitors 50k Cheltenham Bonus For Stable Staff Novice Hurdle at Leopardstown on 6th February.

The Cheltenham Trail Form Book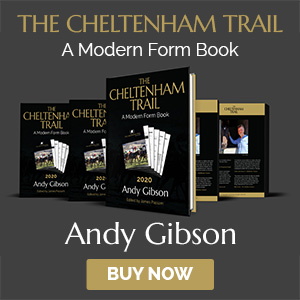 Andy Gibson's new book takes readers through the 2019/2020 National Hunt season as viewed by members of his Cheltenham Trail website. It is a 400+ page hard back reference style book with added stories, strategies and philosophies.
With forewords from Philip Hobbs and Mick Fitzgerald plus previews and reviews throughout the winter culminating in the 2020 Cheltenham Festival, A Modern Form Book is a must read for any horse racing enthusiast.
A perfect eleven from eleven for Envoi Allen?
It was such a shame to see Asterion Forlonge come down at the first fence in the Grade 3 Sky Bet Killiney Novice Chase. Aside from the obvious disappointment for his connections, his departure robbed us of an opportunity to test the quality of the Marsh Novice Chase favourite Envoi Allen. He is now trading a shade of odds on for the Marsh with many firms after beating the 130 rated hurdler Fils D'oudairies by three and a half lengths with the 120 rated hurdler Dinny Lacey, the only other finisher back in third.
By my reckoning, Envoi Allen has now jumped 36 fences in his three chases thus far. On his chasing debut he was headed by the hard-pulling 150/1 shot Soi Cowboy for half-a-dozen fences; however, that horse raced wide and never posed any sort of a threat to Envoi Allen. Aside from then, the only time this Gordon Elliott-trained son of Muhtathir has not been in front at a fence was when Assemble jumped the second last fence slightly ahead of him at Fairyhouse in November. In a matter of strides Envoi Allen had already eased back in front of Assemble before jumping the final fence clear of his rival.
As mentioned in last week's blog, Envoi Allen is unlikely to make all the running in the Marsh if Shan Blue takes his place in the line-up; furthermore, neither of the Willie Mullins pair Energumene or The Big Getaway are likely to allow Envoi Allen to have things his own way if taking their place in the opening race on the third day of the festival.
Not only will Envoi Allen be required to jump round in a competitive chase for the first time; in addition, the fact that he has simply had to jog round to win three races that were close to being schooling sessions can make it that much more difficult to be certain about his ideal distance over fences.
Obviously we have the evidence of his performances over hurdles to guide us; nevertheless, if he did happen to be beaten in the Marsh the likeliest post-race explanations might include well used phrases such as "he did not jump with fluency when not being able to dictate his own pace" or "he is now ready for a step up in trip".
Personally, I doubt that either of those excuses/reasons will be required, given the chances of Envoi Allen proving to be too good for his rivals, irrespective of how the Marsh Novice Chase is run. What I would strongly suggest, however, is that his current odds in the market (around 10/11 at the time of writing) do not acknowledge the possibility of either of those potential negatives coming to fruition. The other point I would like to make about him is that in three extremely uncompetitive chases he has yet to jump a fence on a left-handed course. Once again, this will probably not be a problem; nevertheless, when a horse is trading very short in the market for any race he needs to be judged on the most exacting criteria.
Short-Priced Favourites At The Cheltenham Festival
We must also bear in mind that it is hardly uncommon for horses to appear to be well clear of their rivals in the build up to the Cheltenham Festival, only to fail miserably for all kinds of reasons on the day. Look at the 2020 Cheltenham Festival where I believe 14 horses started at 3/1 or shorter. Those 14 horses produced just two winners in Epatante at 2/1 and Envoi Allen at odds of 4/7.
If we focus only on the horses that started as odds on favourites at the 2020 Cheltenham Festival we are left with just six qualifiers.
Benie Des Dieux, Defi Du Seuil, Tiger Roll, Carefully Selected and Paisley Park were deemed to be head and shoulders above their rivals, according to the majority; only to fall short at odds of 4/6, 2/5, 8/11, 10/11 and 4/6 respectively. Envoi Allen was the only successful odds on favourite of the week when taking the Ballymore Hurdle at 4/7.
A variety of excuses and reasons were put forward for the failures of this quintet and all of those excuses may have had plenty of truth attached. Nevertheless, whatever the reasons, the strength of our views pre-race can be soon forgotten about in the aftermath of a heavy defeat.
This same phenomena will undoubtedly transpire at the 2021 Cheltenham Festival in one guise or another. The difficulty is guessing whether it will occur after the defeat of Shishkin, Envoi Allen, Chacun Pour Soi, Monkfish – or perhaps all four!
Spotting A Hot Handicap
I usually find that most of my analytical research amounts to very little in terms of strong conclusions. In the main, watching horses run round in a circle all day long can be a bit of a grind with a fair degree of 'plodding' attached. Occasionally, however, there will be a stand-out performance that really catches the eye. Often my diary notes on such a performance will include something like the following:
"He has won a lot more easily than the winning margin would suggest; consequently, the handicapper will not be able to put him up by enough. I doubt his new rating will be the variable that gets him beaten next time"
One such case in point was Cap Du Nord after he won at Newbury on 28th November 2020. As a consequence, I was hoping he would compete in broadly similar conditions the next time we saw him. I was pleased to see him entered over three miles at Kempton on the day after Boxing Day. This race represented an extra two furlongs compared with Newbury; however, I did not think that would be an issue, particularly round Kempton. The overnight rain was more on my mind and I was just hoping that the soft ground at Kempton would prove to be less testing than the soft ground we find at many other courses. This is usually the way.
The added bonus to the claims of Cap Du Nord came when the runner up at Newbury, Canelo, won the Rowland Meyrick at Wetherby on Boxing Day.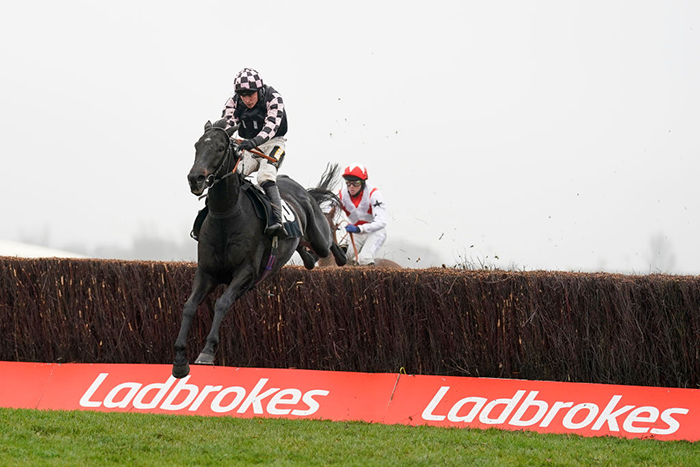 As it turned out the Christian Williams horse proved to be no match for the super impressive Royale Pagaille at Kempton; however, the fact that the third horse to finish, Double Shuffle, was beaten a further 19 lengths was very encouraging. Even more so when one considers that three miles round Kempton has usually shown the Tom George horse in his best light.
This point was emphasised further when the veteran returned to the track just 13 days later to win a 0-150 handicap chase over the same course and distance. The form of the Newbury and Kempton races was beginning to look very strong.
As a consequence, I added a few more horses to my tracker lists. The Rowland Meyrick runner-up Snow Leopardess finished clear of the third horse home and was only raised 3lbs despite making Canelo work hard for his success. Adrien Du Pont travelled well into the Kempton race before weakening from two out. Consequently, he can compete in what was the Racing Post Chase off a mark of 140 which could make him very competitive, providing the ground is not too testing. Mellow Ben ran well in both the Newbury and Kempton races and could go close in a decent race off his 135 rating. His poor win to run ratio suggests he is one to consider more as a trading proposition rather than him possessing strong win or each-way potential.
One thing leads to another
This is often how it works out after spotting one very strong performance. After one or two more races, that one interesting runner can provide five or six more horses to mark up.
This was certainly the case here as the Kempton race subsequently won by Double Shuffle produced three more horses for my tracker lists.
At Kempton, Two For Gold never jumped with fluency and was always struggling to hold his position; never more so than immediately after eight out when he dropped towards the rear and had to be driven hard to get back towards the leaders. Although he jumped right round Kelso one day, one would have to conclude from this performance that he really needs to compete on a left-handed course. He was wrong at far more fences than he was okay and lost many lengths in the process. I would suggest he would have won this race with plenty to spare if not getting in close to so many of his fences and continually losing momentum. He has jumped really well in five of his seven chases to date and generally looks a very reliable prospect.
Saint Xavier finished in fourth place beaten nine and a half lengths by Double Shuffle. This represented something of a return to form; perhaps, it is no coincidence that this ground would have ridden much quicker than the testing conditions he has competed in of late. Saint Xavier was also given a more positive ride which may also have played a part in this apparently improved display. He came over from France with an artificially high chase rating, and it has taken him a long time to be dropped down to what appears to be a workable mark of 137.
Commodore was beaten 40 lengths and more and finished ninth of nine finishers. Not for the first time he performed in such a way as to suggest he will need to stick to competing round left-handed tracks. I am happy to draw a line through his effort at Kempton and hope to see him competing the other way round the next time we see him.
So where next?
I must admit I was hoping to considerCap Du Nord for the Ultima Handicap Chase on the opening day of the Festival. However, I see he is entered for big races at Haydock and Doncaster in the next few days.
Royale Pagaille is entered for the same two races and given the individual ground preferences of the two horses, I would prefer to see Royale Pagaille line-up for the Peter Marsh Handicap Chase at Haydock.
In addition, I hope to see Cap Du Nord wait a week for the Sky Bet Handicap Chase at Doncaster. The Venetia Williams horse will need soft ground to show his best form and he could easily be competitive in a graded contest at the Cheltenham Festival after Haydock. At the moment he is entered for three races in March and my personal preference for him would be the Grade 2 National Hunt Chase.
Cap Du Nord could be raised to a mark in the mid-140s if successful at Doncaster on the 30th January. It would be very interesting to see if the Ultima Handicap Chase would then be on the minds of his connections. His best form thus far has been when competing on a flat track which may be something to consider.
Kim Bailey stated after Two For Gold's win at Warwick this time last year that "The owners would love to go to Cheltenham" – hopefully this will bring him into the reckoning for the Ultima Handicap Chase. His last time out finishing position at Kempton heavily disguised the quality of his performance in such disadvantageous conditions. Hopefully this will result in him being significantly under-estimated in the market should he head for the Ultima next.
Saint Xavier and Commodore look more like Kim Muir possibles to me. The former will need good to soft conditions at worst; whereas, the latter will require testing conditions to show his best form. Commodore previously finished a close second to the aforementioned Snow Leopardess at Haydock which adds another layer of substance to his profile. He ran well for a long way at Cheltenham in December over the Kim Muir course and distance and should have no problem racing close to the front in this staying chase for amateur riders.