SEDATE CLARENCE GALLOP ALLOWS DEFI TO DOMINATE IN STYLE
Defi Du Seuil maintained a perfect record this season with a visually stunning success in Saturday's Grade 1 Matchbook Clarence House Chase at Ascot, easily tossing Un De Sceaux aside in a 2¾ lengths eased down victory after two fine jumps at the last couple of fences.
The first two home had clashed in the Tingle Creek at Sandown on December 7th when the JP McManus-owned gelding just came out on top by a diminishing neck. The formbook may suggest an improved performance from Phil Hobbs's inmate here, but in truth, the Tingle Creek and Clarence House were two differently run races, with Saturday's test of speed clearly suiting the younger legs of the winner.
The gallop Paul Townend set aboard Un De Sceaux, visually, maybe didn't look too slow but when compared to the earlier 2m5f handicap won by Domaine De L'Isle, it will make for poor reading, where Willie Mullins's new number one jockey is concerned.
Domaine De L'Isle's final circuit time was over a second faster than Defi Du Seuil's – carrying 8lb less - because of the gallop set by Townend. From the last fence in the straight to the fifth obstacle on the final circuit, the leader in the handicap chase was ~4.1 seconds faster, or 16 lengths ahead of Un De Sceaux in the Clarence House.
To the next obstacle, the first fence out of Swinley Bottom, the handicap was ~5.55 seconds faster, or 22 lengths ahead. With three fences to jump, that had increased further to ~6 seconds, or 24 lengths ahead. The likes of Simon Rowlands on this website may have a more accurate and better-informed reading of the race, but it really does look like a poor Townend ride; he simply didn't play to his charges' strengths.
Un De Sceaux has always been a horse that puts his opposition under pressure, and often won his races, in the early and/or middle parts of a race, through sheer enthusiasm and galloping prowess. The ride he received on Saturday gave him little chance of beating a top-class horse who we know has a fantastic ability to pick up and quicken.
A shame, given the official going description of "heavy – soft in places" (although it maybe didn't ride quite as soft) gave the 12yo a real chance of another Grade 1 victory, especially coupled with the fact Un De Sceaux looked on good terms with himself. To be fair to Townend, harnessing a potential runaway horse like Un De Sceaux, and trying to get the fractions right can't be easy.
Having watched the race from the stands at Ascot, my gut feeling immediately afterwards was that Un De Sceaux maybe didn't run his race, and the form wasn't Grade 1 strong given the close-up presence of the 143-rated 66/1 shot Marracudja in third, who was only beaten 7½ lengths. Now, having looked at the pace, I think it's clear that the lacklustre gallop played a significant role in Un De Sceaux being picked up so easily and the third finishing so close.
While the level of the form won't match the sublime visual impression Defi Du Seuil made, it would be pretty unfair to have a strong negative opinion about the winner. He and Barry Geraghty could do no more, and can hardly be blamed for the gallop set that just happened to play into their hands.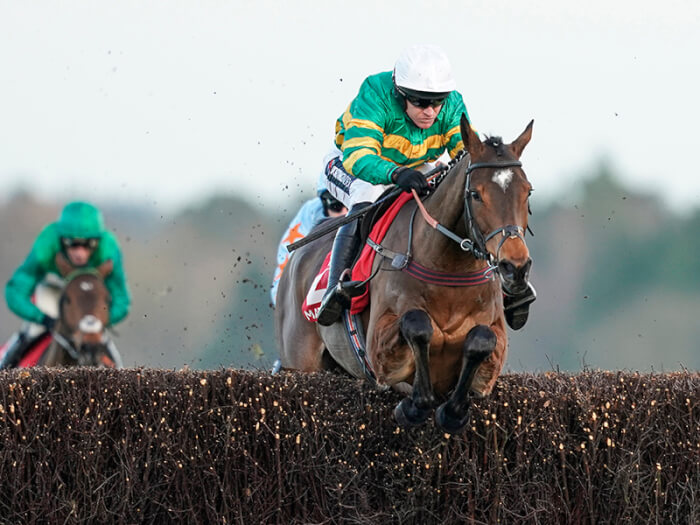 Indeed, the huge positive that should be taken from the race is the fact that Defi Du Seuil didn't have a hard race, in what was his last raceday appearance before the 2020 Cheltenham Festival. He now goes to Cheltenham on the back of a perfect prep, and his chance of winning in March has increased. What race he will run in at the Festival is still undecided; at the time of writing he is 2/1 (favourite) to win the Champion Chase and a best-priced 8/1 to win the Ryanair.
As an ante-post backer for the Ryanair, I do hope he runs on the Thursday, but on the evidence of this season I could have no qualms about him running in the Champion Chase, if that is the route connections take – he has certainly earned the right.
Having gone back and looked at the history of the Champion Chase, I don't think leading National Hunt owner JP McManus has ever won the Wednesday highlight in his famous green and gold colours? I do wonder will that be a factor in what race the seven-year-old goes for? For an owner like McManus, not winning the Champion Chase would be a glaring omission from his CV.
In some ways, I do still think the Ryanair will suit Defi Du Seuil more. It will put less pressure on his jumping and taking on staying types, with his turn of foot, would be an easier assignment than taking on Altior and co, even an Altior on the downgrade.
To be fair, Defi Du Seuil's jumping has got slicker with experience but he can still be a little airy at times (I really wanted to see him jumping from Swinley Bottom up to three out, but the poor camera angle in use from the moving truck at Ascot wasn't a help) and he is yet to be tested over a sharp two-miles on spring ground - in jumping or galloping - in a strongly-run race. This is what he will likely face in a Champion Chase, and furthermore, stronger and quicker opposition than a 12-year-old Un De Sceaux.
In truth, this is nit-picking, and I can't see any reason why he wouldn't adapt to a typical Champion Chase, but it remains a fact, it is a test he hasn't passed yet. Whatever race he runs in, if he is on song, it will take a genuine top-class performance to overturn the already two-time Festival winner.