A SIMPLE SUGGESTION TO IMPROVE THE VIEWING SPECTACLE OF NATIONAL HUNT RACING
Something struck me when watching the racing on Saturday. I realised that when enjoying a race over fences, barring the commentator has done his homework and mentions it in running, most of the time I am unaware whether the next obstacle to be jumped is a plain fence or an open ditch.

The thought brought me to Twitter where I ran the following poll to check if it was just me or whether it was common across the racing world. The results couldn't have been clearer:
Racing Twitter, I have a quick question for you.

Not including when the commentator mentions it in running, do you regularly know whether the next fence to be jumped in a race is a plain one or an open ditch?
— Kevin Blake (@kevinblake2011) November 30, 2019
Before getting onto the point I was originally going to make, the replies to that poll also made it very clear that there are plenty of followers of racing out there that don't know the difference between a plain fence and an open ditch.
There is no great shame in that, as it evidently isn't a subject that has been covered well enough to make it common knowledge. Indeed, anyone that goes in search of the answer on Google won't have an easy task finding the right answer.
So, for the benefit of those that don't know or are unsure, the differences between a plain fence and an open ditch are quite simple. This is a plain fence: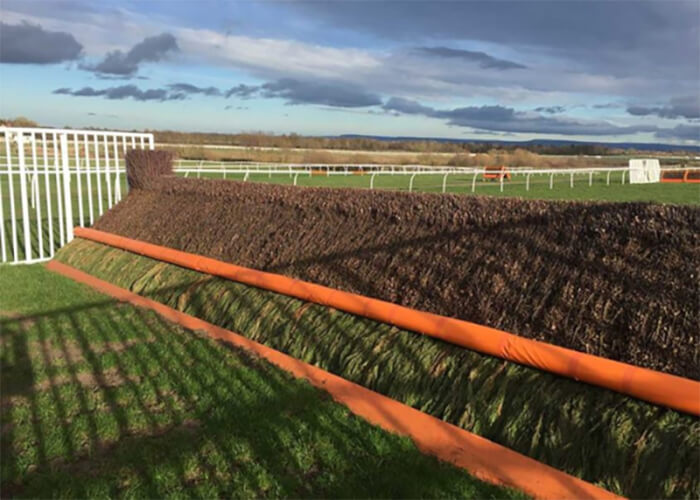 For all intents and purposes an open ditch is essentially a plain fence with the bottom of the fence extended outwards to incorporate a ditch on the take-off side of it, as can seen here:
(Images from www.wattfences.com)
It is worth noting that open ditches can vary slightly in both structure and appearance from track-to-track and from Britain to Ireland. The main difference tends to be varying amounts of packing in the "apron", which is the area from the highest point of the fence down to the bottom of the ditch.
These might seem like inconsequential differences to some, but there is no question that they are significantly different obstacles that represent different challenges to the horse. The ditch serves to increase the spread of the fence, which as well as making the fence more of a jumping test, it also requires the horses to be clever and nimble enough to get close enough to the take-off board to allow themselves to clear it efficiently.
All of these factors place greater demands on both the horse's athleticism and judgement.
To add to the seemingly widespread confusion, in Ireland an open ditch is often referred to as a "regulation fence." This is because the regulations of Irish racing dictate that an open ditch must be jumped at least twice in every race over fences, so this rule has led to the open ditches being referred to regulation fences. Is it any wonder some people are unsure?!
Another question that cropped up a few times under the poll was people asking what a "cross fence" is. Again, this information isn't easy to find online. Rather than being a specific type of fence as some assume, what makes a fence a cross fence is its location on the track.
Specifically, it is a fence that isn't situated in the straight or the back straight, but on the side of the track. One of the best-known examples of a cross fence is at Newbury (see below), but they are also present at Wincanton, Sedgefield and the Mildmay course at Aintree to name a few.
Now that we have answered all those questions, I can get back to what my original point was going to be!
My thought is that we shouldn't really have to rely on a well-prepped commentator to tell us whether the upcoming fence is an open ditch. There should surely be some effort made by racecourses, ideally via an industry-wide directive from the BHA/IHRB that obliges them all to do it, to make open ditches readily identifiable to the viewer from television shots before they are jumped. This could be as simple as putting a large orange pole inside the running rail 50 metres in advance of the fence in a position that is clearly visible to the cameras.
In terms of the bigger-picture goals of this proposal, ultimately as a sport we are trying to put together as exciting a spectacle as possible. If all the viewers and followers of National Hunt racing are more aware of the greater challenges of an open ditch and if more commentators play their part by giving the approach to them a bit of a build-up to heighten the drama, it can only increase the excitement of the spectacle.
Back in the days of the older versions of the Grand National, approaching the likes of Becher's Brook and the Chair were great drivers of excitement for the viewer, as everyone knew they were significantly more challenging than the other fences. This created anticipation, excitement, trepidation and ultimately relief if the horse of your attentions successfully negotiated it.
Of course, those days are largely gone with those particular fences having been pared back significantly, but perhaps some of that emotional stimulation can be replicated on a day-to-day basis by putting a greater emphasis on the challenge that open ditches present?
As well as that, it always surprises me that more tracks and broadcasters don't go out of their way to set up camera positions around open ditches. They regularly produce some of the most spectacular shots of the season, yet we generally rely on photographers using their initiative and setting up beside them to deliver us dramatic stills of these leaps such as this one of Altior:
On a related note, all broadcasters of racing that don't already do it would do well to utilise a simple dynamic graphic displaying how many jumps are left to be negotiated. It is a very basic thing that would be appreciated by all.
These are all relatively simple suggestions that won't cost much if anything to implement, but could well enhance the viewing experience for racegoers everywhere.
What this exercise has also exhibited quite clearly to me is that the racing authorities still have a lot of work to do when it comes to getting in-depth educational material about racing in a centralised resource. There really shouldn't be any confusion amongst followers of racing over what are relatively basic subjects such as plain fences and open ditches.
The fact that there is shows that there is much work to be done in the area of education.