THE GOOD, BAD AND UGLY MOMENTS OF THE CHELTENHAM FESTIVAL
THE GOOD: WILLIE MULLINS HITS FORM WHEN IT MATTERS MOST
The form of the Willie Mullins yard had been a hot topic of discussion in the weeks leading up to the Cheltenham Festival. With him getting precious few runs into his leading lights and operating at lower strike rate than normal, from the outside it seemed as though there was a bigger issue than just the unseasonably dry ground at play.
Many were willing to put their faith in Mullins to get his horses back in top order for Cheltenham and when the rain arrived, those hopes only grew. As it transpired, Mullins did bounce back. While his tally of four winners wasn't one of his stronger performances by his sky-high standards, one suspects that he will rank it right up there given what they had to overcome to get there.
Mullins isn't the type to ever make excuses, but if racecourse chatter is to be believed, this season has been far more of a struggle for him than he has ever admitted publicly with regard to the health of his horses. For him to pull four winners out of the bag on the sport's most competitive stage in those circumstances serves to confirm what we already knew about him. He is the best.
The win of Al Boum Photo in the Gold Cup is sure to be considered amongst Mullins' career highlights. After having the runner-up in the race on a heart-breaking six occasions, one can be certain that this win will give him as much satisfaction as any. To do it with a horse that only had one run this season in a Listed chase at Tramore makes it all the more remarkable.
It was also a glorious moment for jockey Paul Townend. He had been riding the same horse when plummeting to the lowest point in his career at the Punchestown Festival last year. He made a horrendous error of judgement that cost the horse a Grade 1 victory that day, but he righted that wrong on the biggest stage here.
For a man not known for outwards displays of emotion on the racecourse, his unbridled joy in the aftermath of the race painted the picture of a man that had just exorcised a painful memory and made it up to all it had affected.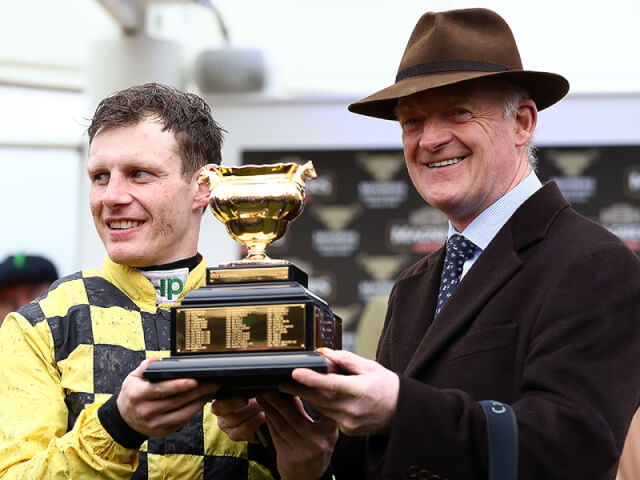 On a related point, it is interesting to note that the average number of starts that each Cheltenham Festival winner had up to that point in the season averaged at 2.57 this year. This contrasts with an average of 3.36 prior starts for each winner at last year's meeting. The firmer-than-usual ground was clearly a factor in that, but it may also hint that those trainers that took a more patient approach while such ground prevailed may have reaped the benefits last week.
THE GOOD: MARK WALSH COMES OF AGE
Two years ago at the Cheltenham Festival, Mark Walsh was poised to have a break-out meeting having picked up a very strong book of rides after Barry Geraghty was ruled out through injury. However, his dream opportunity soon turned into a nightmare as this meeting got no further than the first race of the second day with him suffering a concussion and breaking his leg in a fall.
Fast-forward two years and while his book of rides didn't look to have quite the same strength and depth as it had in 2017, he very much made the best of it. His wins on Espoir D'Allen in the Champion Hurdle and on City Island in the Ballymore Novices' Hurdle were his first victories at the highest level in Great Britain. They were his fifth and sixth Grade 1 wins since Christmas, with that remarkable run of form doubling his lifetime tally at the highest level to 12.
For several years now Walsh has appealed as being one of the very best National Hunt jockeys anywhere. A relative lack of big-race success was perhaps the only thing holding him back from being given more widespread acclaim, but the last three months have gone a long way to rectifying that.
THE GOOD: FAIRY TALE RESULTS
The third day of the Cheltenham Festival has been the poor relation of the meeting since it was increased to a four-day event, but this year it provided two of the highlights of the week.
The partnership between Bryony Frost and Frodon had already provided some memorable moments this season, but they were all eclipsed by what they achieved in the Ryanair Chase. In what was a fabulous horse race, Frodon showed wonderful grit to battle back after being headed to see off Aso by 1¼ lengths.
As we have now come to expect, Frost delivered a breathless interview from the back of her partner that would have been entirely fitting for the final scene in a Disney movie. Unsurprisingly, it went around the world and generated many positive headlines for the sport.
While Frost clearly is a force of nature with a microphone in front of her, with her having successfully negotiated that tricky period after losing her claim, she looks sure to continue to rise up the jockey ranks. The positive attention that her ability to speak with such infectious enthusiasm has brought her will hopefully encourage more young riders to see the benefits of showing personality when in front of a microphone.
Thursday also saw another highly-popular result with Paisley Park winning a thrilling renewal of the Stayers' Hurdle. Representing the popular combination of Emma Lavelle, Aidan Coleman and owner Andrew Gemmell, the seven-year-old briefly looked in trouble but surged through the field to ultimately win well. The son of Oscar may end up over fences, but if his connections choose to keep him over hurdles, he has all the attributes to dominate the staying division for years to come.
THE GOOD: ESPOIR D'ALLEN
The Champion Hurdle was billed as the best renewal of the race for 15 years only for the Racing Gods to conspire for all three of the main contenders to either run below expectations or fail to complete. However, that doesn't mean the impressive winner Espoir D'Allen should be doubted.
The Gavin Cromwell-trained five-year-old jumped, travelled and picked up in a manner that suggests he would have been hard to beat even if the big guns had fired as hoped. We are likely to have to wait until next season to see him again, but what he did on Tuesday makes him the one to beat in the division.
It was also a week to remember for owner JP McManus. He secured five winners from 43 runners including two Grade 1 winners. Those wins were delivered for him by five different trainers, Gavin Cromwell, Philip Hobbs, Gordon Elliott, Ted Walsh and Joseph O'Brien.
THE GOOD: TIGER ROLL
Can anyone remember a horse to come back the season after winning the Grand National as not just a better horse, but a significantly better horse?! That seems to be what Tiger Roll has done.
He produced a career-best effort over hurdles last month and followed it up by winning the cross-country chase at Cheltenham with an ease very rarely seen at the meeting. That he has become linked with Keith Donoghue only enhances his story. A tremendous horseman that has bested the weight issues that almost derailed his riding career, one suspects that his partnership with Tiger Roll has been a key part of Keith's drive to get to where he is now.
The nine-year-old is quickly becoming one of the most popular horses in the sport. One can only imagine the excitement that will surround his bid for a second victory in the Grand National next month.
THE GOOD: ALTIOR SHOWS HIS GRIT
Altior may not have produced his very best in the Queen Mother Champion Chase, but he once again showed that overcoming adversity is not a problem for him in coming out on top in a race that wasn't really run to suit him in tactical terms. While he is a dominant force in the two-mile chase division, he really does shape as though a longer trip will suit and it will be fascinating to see what his connections opt to do with him going forward.
THE GOOD: THE CODDFATHER STRIKES AGAIN
Jamie Codd is already well established as one of the finest amateur riders of his generation, but he hammered home that point by riding two winners at the meeting. The emotional interview he gave in the aftermath of the National Hunt Chase in which he spoke so eloquently about the loss of his brother last year tested the hardest of hearts. As well as being a tremendous jockey, he is a fine man too.

THE GOOD: RACHAEL BLACKMORE ARRIVES AT THE TOP TABLE
The rise of Rachael Blackmore has been one of the biggest stories in the last couple of seasons. A Grade 1 winner and a Cheltenham Festival winner were both missing off her ever-growing CV going into last week, but she remedied that in no uncertain terms with her two winners for Henry De Bromhead including the Albert Bartlett Novices' Hurdle on Minella Indo. That she rode in 17 of the 24 races she was eligible to ride in shows just how in demand she is. Indeed, of all the jockeys that rode at the meeting, only Paul Townend, Barry Geraghty and Harry Cobden had more rides during the week with 18 apiece. She has very much arrived at the top table of her profession.
THE BAD: TOUGH WEEK FOR HIGH-PROFILE JOCKEYS AND OWNERS
Having ridden four winners each at last year's Cheltenham Festival, one would have got a big price about neither Davy Russell or Jack Kennedy riding a single winner at this year's meeting, but that is what transpired. Russell's blank brought to an end what was one of the most remarkable records in National Hunt racing, as he had ridden at least one winner at the meeting for the previous 13 years.
Also spare a thought for Danny Mullins. The 26-year-old's quest for his first winner at the Cheltenham Festival had another agonising chapter added to it on Thursday. Coming into last week, he had finished second at the meeting on four occasions, most recently being headed in the dying strides on Carefully Selected in last year's Champion Bumper. This time the margin was even tighter, with him losing out by a short-head on Concertista in the Mares' Novice Hurdle.
With the 26-year-old being well on target to register a career-best tally of winners this season, it seems to be only a matter of time before he arrives in the Festival winner's enclosure, but one would forgive him for being frustrated that he hasn't got there yet.
It was also a tough week for leading owners Gigginstown House Stud. They had enjoyed a festival of all festivals when having a remarkable seven winners at last year's meeting, but Tiger Roll's win in the cross-country chase was their only winner from 39 runners last week.
Graham Wylie had an even tougher week of it. He had seven runners at the meeting and as well as none of them troubling the judge, two of them didn't come home, with both Ballyward and Invitation Only losing their lives. Wylie is universally acknowledged as one of the nicest people in racing and one can only hope that he enjoys better fortune in the near future.
THE BAD: BRITISH BREDS FAIL TO FIRE
At the conclusion of the Cheltenham Festival, 14 of the races had been won by horses bred in Ireland and 14 by horses bred in France. I failed to find a previous Cheltenham Festival where a British-bred horse had not won at the meeting.
With Brexit looming and some parts of the British breeding industry having been championing British-focused protectionist measures in recent months, one can only hope that it serves as a stark reminder to the British thoroughbred industry of how reliant they are on thoroughbred imports, particularly in the National Hunt sector.
THE UGLY: THE STARTS
I suspect one would have to travel a long way to find someone that thinks the British starting procedures over jumps are a good idea and high-profile occasions such as the Cheltenham Festival and Aintree Grand National have tended to illustrate how poor they really are.
The starter isn't to blame, he is simply enforcing the rules as they stand. It is the rules that are the problem. Enforcing a standing start after a false start is a completely and utterly disproportionate action. They often lead to unsatisfactory starts, with every horse potentially being inconvenienced including those that played no part in forcing the original false start.
It would surely make much more sense to repeat the existing procedures a second time after a false start with heavy punishments being put in place for those that cause a second false start to act as a deterrent.
Standing starts should be avoided at all costs.
THE UGLY: AMATEUR RIDER BANS
This is a subject that warrants an article of its own, but I will attempt to deal with it as briefly as I can.
The National Hunt Chase on Tuesday was not a spectacle for the faint-hearted. Half of the 18 runners fell or unseated their riders and the four horses that completed the race did so in slow motion.
However, for three riders to be banned for a total of 30 days for continuing when it "was considered contrary to the horse's welfare" was just plain wrong. These are horses running in a novice chase over four miles, they are there because stamina is their forte. It is a jockey's job to get the best from their mounts and for the stewards to punish them for trying to achieve the best possible position seems exceptionally unfair.
Horses always have a choice and if they do not have the energy to jump the obstacle in front of them, they will refuse. A rider can only ask a horse to do something, it cannot make them do it.
Rather than punishing the riders for doing their job and creating a toxic narrative, we should be applauding the bravery of the four horses that negotiated the course in what were demanding conditions. As well as that, the horsemanship that Declan Lavery showed in nursing Jerrysback after an errant leap at the second-last fence in a manner that allowed him to jump the final fence with aplomb and secure third on the run-in was more deserving of commendation than punishment.
One can only hope that the wrong of banning him for such a ride will be righted when the appeal against his 10-day ban is heard this week.
This notion that we should be afraid of what are the equine equivalents of our marathon runners being tired at the latter end of their races is absolutely absurd. They have shown themselves to be laden with stamina and have been conditioned to run extreme distances.
They might finish the races slowly, but to suggest their welfare is at risk is just crazy.
All of the horses in question were perfectly fine soon after the race and recovered as one would expect a highly-conditioned athlete to do.
These decisions were right up there on the bamboozling scale with the "free will" statement made by the BHA and subsequently backed down from back in January. The slippery slope that such decisions and language put the sport on should be clear for all to see.
Long-distance chases and indeed many races over shorter trips that are run at a searching pace on testing ground can end up producing slow-motion finishes. Are we to expect the stewards to intervene every time a tired horse is asked to continue? If so, the BHA may as well just get it over with and ban National Hunt racing in its entirety, because that is the destination at the end of the road that such decisions will lead us down.
THE UGLY: SIR EREC LEAVES A VOID
Friday's card got off to an upsetting start with Sir Erec suffering a fatal injury in the Triumph Hurdle.
As well as being an incredibly exciting racing prospect, one suspects a vast swathe of the racing world fell in love with him as they watched this gorgeous colt parading in such a gentlemanly manner and standing so quietly when being re-shod at the start.
The Triumph Hurdle was to be his coming-out party, but it wasn't to be. We'll never get to find out how far he could have gone as a hurdler, on the Flat or indeed as a sire.
Retaining perspective is of course important in such situations, but in the context of a racehorse, this was a tough one to stomach.
To conclude on a positive note however, the Cheltenham festival was a roaring success.
This year's Cheltenham Festival attracted record-breaking on-course attendances and ITV reported some of the best terrestrial television viewing figures for the meeting in over a decade. While we as a sport can sometimes fall into the trap of being insecure, defensive and accentuating the negative, we should never lose sight of the fact that by many measures this is a sport that is thriving.
Rather than cowering in the corner, we should stand up and be very proud of our great game and the contribution in makes to both society and the economy.