French racing playing to almost empty stands is not a new thing, but the fact that the sport is going ahead at all is something to be celebrated in these unprecedented times. The fare being provided is not just cannon fodder, either, as the quartet of Group races at ParisLongchamp on 11 May – covered in last week's ATR Sectional Spotlight – showed and as several quality contests in the week since has underlined.

Let's start at Chantilly last Wednesday, when the highlight was the Group 3 Prix Texanita for three-year-olds, won by WOODED.


This was the fastest of five 1200-metre races on the card, though not as good an overall time as you might expect compared to the final two races, which were ordinary handicaps. The crucial factor here was that those two races were dominated by horses racing on the far side, where the ground was probably quicker. Only two went far side in the Texanita, including third-placed My Love's Passion, and no others went far side in any of the other sprint races.

The Texanita was run in a good overall time in a stand-side context, and those finishing speed %s show that it was well-run, though with Wooded himself finishing off quite quickly for an impressive three-and-a-half length success.

He was 0.92s (nearly six lengths) quicker than the useful Hurricane Ivor in the preceding Class 2, all of that difference and a bit more besides coming in the final 400 metres, including a sub-11.0s equivalent of a penultimate furlong.

Wooded was a maiden winner and twice Group 3-placed at two years, when he ran exclusively at 1400 metres, and this major step forward to a 112 rating is good enough to see him win a Group 2 when things go right. Wooded's striding (2.50 strides/sec maximum, 2.31 minimum, from video) suggests he will not be just an out-and-out sprinter, either.
Incidentally, the official description of the ground as "bon souple" (good to soft) looks some way out, though this is accentuated by the distances on the sprint course being short judged by Google Earth. The times were still more like "good" or "good to firm" judged by Universal Standard Times.

The action was back to ParisLongchamp the following day, when the Prix la Force and the Prix Vanteaux were Group 3s for the classic generation.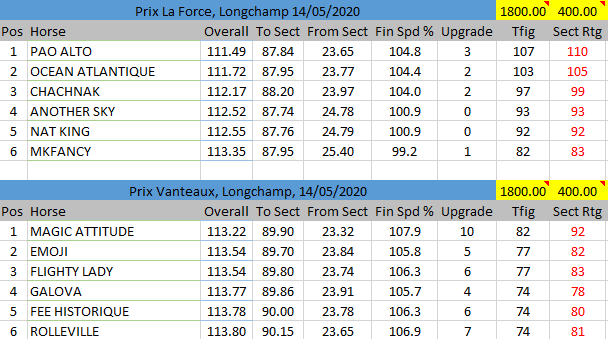 The former, for colts and geldings, was run in an overall time 1.73s quicker than the latter and is almost certainly much stronger form. PAO ALTO looks of similar calibre to the 2019 Force winner Shaman for the same owner/trainer combination: Shaman subsequently finished second in the French equivalent of the 2000 Guineas and won the Prix d'Harcourt the other day.
Not only is Pao Alto a promising colt, runner-up Ocean Atlantique finished well after having to wait for a gap and should make amends at a similar level. They should both be suited by 10f/12f, with maximum/minimum stride frequencies from video of 2.37/2.07 and 2.34/2.14 respectively.
Although this year's Force was more truly-run than the Vanteaux, as shown by those finishing speed %s, the fillies could have been expected to finish quicker than they did given that they got to 400 metres out around a dozen lengths behind.

While the first three can be rated around the 100 mark (second and third already were), the proximity of long-standing maiden Fee Historique in fifth at 77/1 is a significant concern. "Around the 100 mark" is more Listed than Group 3 level, as underlined by the three such winners on that same Longchamp card: Raabihah (98 after upgrading for a 112.0% finishing speed), Grand Glory (104, 104.1% FS) and Arapaho (100, 97.7% FS and a rare strongly-run affair at the short 1400 metres).

The soleil had his chapeau on again at Chantilly on Monday, when the Group 3 Prix Bertrand du Breuilproduced a winner of some note in PRETREVILLE, who missed the course record by just 0.02s on ground that must have been firmer than the "bon souple" again given.

This was the five-year-old's first run above listed company and seventh win in 10 starts, having been switched from Jean-Claude Rouget to Pascal Bary over the winter.

The splits tell of a well-run contest (hurray!) in which Pretreville was not advantaged by making the running in beating the very smart Plumatic and Skalleti by clear margins. The latter, who carried a 2 kg penalty and was going on at the death, thrived on his racing last year and should improve for this.

Pretreville is likely to have a future in Group 2 and possibly even Group 1 races, with his front-running ability likely to stand him in good stead on his native soil.
In a time in the hopefully not-too-distant future, horses with strange French names will be running again at venues with solid British names, like Cheltenham, Chepstow and Perth.

A name like Heros D'ainay – winner of the Listed Prix Go Ahead Hurdle at Auteuil on Saturday – perhaps, though someone may well need to buy and import the Gabriel Leenders-trained gelding first.

Heros D'ainay's win by 12 lengths and 10 came in a race that had gone to subsequent Betfair Hurdle winner Pic d'Orhy in 2018, and Heros d'Ainay looks every bit as promising. He covered the 3000 metres fastest of four winners at that distance across the two days and the 425 metres from two out fastest of 19 at all distances (27.1s). In terms of overall times, it looks to be worth a rating in the mid-130s, but with the promise of quite a bit better on those sectionals. Could this be our Triumph Hurdle winner for 2021 already?