The best horse on the day almost certainly won Saturday's Betway Winter Derby at Lingfield, but if you backed, owned, trained, or were in any other way connected with, DUBAI WARRIOR you will have been very pleased to see that Frankie Dettori left nothing to chance.
His ride maximised the colt's chance while also making life difficult for his main rival, Bangkok.

The fact that Bangkok was not in quite the same form as he had been when breaking the track record here three weeks earlier meant that Dubai Warrior scored comfortably, but Bangkok might well have been hard pressed to defeat him anyway with the horse and Dettori in such top form.
If you want an eloquent exposition of what went on and how, Kevin Blake did a grand job on Sky Sports Racing's "Racing Debate" programme on Sunday.
The by-horse and by-furlong splits are also up in the Results Section on this site, colour-coded for ease of understanding. They show a tepid opening (described as "even to slow"), a slightly warmer middle and a red-hot section from 3f out to 1f out.

Dubai Warrior was best positioned when the late sprint began, while Bangkok tended to over-race (not shown in the splits) in trying to keep tabs on the leader when the pace was uneven.
One of the things about such rich data is that there are many ways in which to express it. For example, the following shows how Dubai Warrior's splits compare to all other splits for 10f races at the course.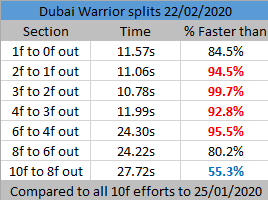 Dubai Warrior is a talented athlete and able to run faster than other horses even when he is going slowly by his own standards.

But he geared up smoothly from some close-to-average figures (faster than just 55% of the horse population in the opening stanza) to some exceptional ones, especially in that 3f out to 2f out section, in which only 0.3% of horses in the extensive TPD Archive had run faster.

Dubai Warrior was in the lead 3f out, by a length or two, and it would have taken something other-worldly from Bangkok or Court House to get past him before the straight. As it is, Dubai Warrior continued to run faster – if only a little faster – than his main rivals from that point. Job done.

TPD also give us stride length and frequency measures, the former associated with ability (but often masked by other effects), the latter with stamina (quicker leg speed is difficult to sustain at further).
These show that the first three all had their longest strides around 2f out. But, whereas Bangkok's was 24.8 feet and Court House's was 26.0 feet, Dubai Warrior's was a massive 26.8 feet.

Bangkok's stride frequency is most typical of a 9f performer, and Court House's of a 10f performer, but Dubai Warrior's more leisurely 2.29 strides/second maximum to 2.07 minimum is that of a 12f performer.
It is quite something to think that he may prove even better than this at a longer trip!

Last week's ATR Sectional Spotlight contained news about how the racing authorities in Britain were using colour-coded Total Performance Data splits, as may be found in the Results Section of this site, to assist them in integrity matters. That is just one of the spin-offs of accurate sectional timing provision.
I thought it would be a good idea to have a quick overview of where we stand with sectionals early in 2020 and contacted Tom Byrne of the Levy Board to that end.

You may recall that the Levy Board authorised part-funding of sectional timing in Britain over a three-year period, commencing in April 2019. This, in turn, came about in part as a result of pressure from the Horseracing Bettors Forum and the receptiveness to that pressure of Nick Rust, CEO of the BHA.

The amount earmarked was £900,000 over that three years, with by-fixture payments decreasing over time, so as to avoid a "cliff edge" scenario at the end of March 2022. Thereafter, sectional coverage will need to be self-sustaining.
The Levy Board expects that all British fixtures – flat and jumps – will be covered in some form by the end of 2021, and it is engaged in a degree of monitoring of outputs and requirements accordingly.
TPD now provides data from 23 tracks in Britain, plus 10 in the US, and is aiming to cover 690 fixtures in the former alone in 2020.

Most of the sectionals are colour-coded so that what they signify may be understood more easily. Indeed, it has been a job for the person responsible for the logic behind the colour-coding (me) to keep up, such has been the rate of progress!
Byrne stated that it was "so far, so good, in progress towards meeting the 2021 timeline" nearly a year in and reiterated what the Levy Board sees as the benefits of sectional timing.

These include "growing the levy and interest in horseracing as a betting sport", with in-running identified as an area of potential growth, and "regulatory (equine welfare, stewarding and handicapping) and integrity improvements".

He also underlined the desirability to provide data at different levels of complexity for different audiences, and for there to be ongoing education of what the figures mean.

This is all a far cry from the benighted years of late last century and earlier this, when sectional times appeared sporadically, and some within the industry were hostile and obstructive towards them.
The next couple of years are crucial to the development of sectionals in this country. It is essential that other timing providers step up to the plate in that period.

Meanwhile, you – Dear Reader – can play your part, if you wish, by encouraging other media outlets to use and make proper sense of sectional and timing info.

There remains a shortfall in getting what information exists out into the wider public and of explaining the concepts which underpin sectional timing. Some out there are, as it were, still "awaiting sectionals".