GEORGE ROOKE
George Rooke entered the second month of Season 7 at the top of the apprentice jockeys' leaderboard with five winners from just 15 rides, thanks mainly to his link-up with champion trainer Mick Appleby.
The Oakham handler has been quick to recognise the 18-year-old's potential, utilising his talents - and his 7lb allowance - to notch up a hat-trick with the prolific Clipsham Tiger.
"To ride winners for a top trainer like Mr Appleby has been a great start," says the teenager, who is apprenticed to three times former champion jockey Richard Hughes.
"I clicked with Clipsham Tiger straight away when I rode him at Beverley in September. We were only beaten half a length but when I rode him at Kempton the next time he got no cover and ran too keen.
"I was really pleased to get another chance on him at Chelmsford and he settled lovely. My boss (Hughes) told me to stay tight, wait for the gap and then take it and it all fell into place."
After that, Rooke and the Tiger roared to even more success. "Just over a week later he bolted up by 10 lengths at Southwell and then followed up a few days later, even though he'd been put up 7lb," he adds.
"It was so exciting to ride a hat-trick on him all in the space of a few weeks and now I've made a good start I'm determined to build on it," adds Rooke, from Hook in Hampshire.
He is one of four apprentices under the tutelage of Hughes. Finley Marsh has worked his claim down to 3lb, while much-touted friend Angus Villiers is about to jet off to North America to gain valuable experience riding track work to the clock. Hughes has also given a handful of rides to Tyler Heard.
"I feel very privileged to have Mr Hughes as my boss," he adds. "He was one of the best jockeys in the world and gives me a lot of help and advice so it was amazing to ride my first winner for him back in the summer."
That was on board Kath's Legacy at Chepstow on only his third public ride. "I'll never forget it, I was so nervous. The boss told me to break the race down in 100 metre sections and kick a couple off furlongs out. I went through it over and over in my head and couldn't believe the feeling when I realised I was going to win - it was unreal. I keep talking about it even now."
Hughes isn't Rooke's only mentor, however. "I'm also lucky to have another great former jockey, John Reid, as my coach. He played a big part in making Jason Watson champion apprentice so I'm in good hands. I go to John once a week and he's made a big difference. He's changed the way I ride, really. I've improved my technique and feel more comfortable on a horse now."
Rooke showjumped and evented at his local riding school near Reading and rode out for Hampshire trainer Patrick Chamings in the school holidays before graduating through the British Racing School.
He numbers Jim Crowley and Ryan Moore among his role models. "Jim never picks up his stick too early and Ryan has that strength to almost carry a horse. I also enjoy talking to champion jockey Oisin Murphy who is so knowledgeable for his age, and Frankie (Dettori) is just so stylish. I'd like to take a little bit from each of them."
With well-established agent Nicky Adams booking his rides, Rooke's 7lb claim looks certain to attract plenty of opportunities, particularly when so many promising young jockeys head overseas in the new year.
THORE HAMMER-HANSEN
Becoming a jockey is part of Thore Hammer-Hansen's DNA. His father Lennart was champion in Denmark and also rode for a number of years in Germany, where he now trains.
Attached to Richard Hannon's powerful academy in the south, Hammer-Hansen has already established himself as a sought-after apprentice and is using this winter to prepare himself for a crack at becoming champion in 2020.
"I'm not that far away from my 3lb claim now so I want to preserve it as best I can but my plan is to ride through the winter, build a few more contacts and hopefully have a try for the title next year," he says.
"If I rode five winners in a week or something I'd probably have to slow down a bit and just ride mainly for the boss but I'm enjoying it right now. The All-Weather's a different ball game to the turf. The style of racing teaches you plenty and you can get more rides when the big boys are away.
"There was some talk of me going abroad but I'm happy to stay here and work hard at getting as many outside rides as I can. Alan King has been very good to me and Ralph Beckett has been using me, too. It means a lot to get chances for big trainers.
The support network behind the young Dane couldn't be stronger. As well as working for Hannon, he has spent time in Germany with his father and has been taught by one of the world's greatest trainers in France.
"My dad started training in 2014 and that's how I got into racing," he recalls. "I started riding out for him and then he sent me to Andre Fabre's before I joined Richard, which was an amazing experience.
"I learned a lot because he took his time to teach me and gave me a lot of one-on-one help. He put me on the simulator and corrected a few things.
"His horses are all naturally calm and he has a thing about them walking on a long rein. When you canter he likes you to grab them up very short. All of his riding is based on the horse, rather than the rider.
"I went back there for a week last summer and he pulled me over again and gave me a few more tips. I'm very fortunate to have someone that successful helping me out from time to time.
"I've also been back over to Germany a couple of times this year to ride out for my dad but he has most of his runners in France, so that's where I usually go when I go home," he explains.
Hammer-Hansen's mentors closer to home are Hannon's jockeys Sean Levey and Tom Marquand. "Tom and Sean are very helpful. They've both taught me a lot. Sean helps me on the simulator every now and then and tells me what I'm doing wrong and right.

"Rodi Greene has been my coach from the start and has been great to me as well. He comes up once or twice a week when I'm not racing.
"I've also got a very good agent, Shelley Dwyer, who has helped Silvestre De Sousa become champion jockey. Since I switched to her I've started riding for some big trainers so I'm very happy about that."
DYLAN HOGAN
Dylan Hogan is the first to admit that success hasn't been instant since he quit Ireland to ride for Newmarket trainer David Simcock, but he is hoping the All-Weather Championships will provide him with that vital springboard.
Hogan, a graduate of the Irish Racing School, honed a good reputation in seven years with Kevin Prendergast, riding over 30 winners before packing his bags for Newmarket in 2018.
But his link-up with Simcock and other trainers in the town is yielding plenty of opportunities, which he now aims to convert into winners this winter.
"I enjoyed my time in Ireland but it's even more competitive over there in terms of getting rides. There's one meeting a day and I just felt I needed to broaden my horizons," he recalls.
"When I first came over I got off to a great start but things slowed down a bit this summer," he says. "I still rode 13 winners which wasn't too bad and I'm banking on getting plenty of rides over the next few months."
The chance to join Group 1 winning-trainer Simcock was one that Hogan was keen to grasp with both hands. "It's a great stable to be associated with and I haven't really looked back.
"The boss has about 30 for the All-Weather and I've also ridden quite a bit for Henry Spiller, John Butler and Robert Cowell. I go in and ride out for John and a few other trainers so I'm building up some good connections."
Among the horses Hogan is hoping to ride is Simcock's 87-rated Smart Champion, who was second in a valuable staying handicap at Newmarket on his final start in September and could emerge as a prospect in the Marathon division.
Hogan regards former champion Jamie Spencer to be a mentor. He, too, rides regularly for Simcock and has been instrumental in the young rider's development so far. "Jamie's always happy to give me advice when I ask him and I've been grateful to Stevie Donohoe and Kieran O'Neill.
"When I was in Ireland Stephen Craine, Declan McDonogh, Gary Halpin and Chris Hayes were all riding out at Kevin's and they did a lot to help me get started. Willie Supple was there when I first started and he did so much to improve me, too," he adds.
"I'm 25 now so next year will be my last as an apprentice and I want to make it count. I can still claim 5lb and I'm hoping more winners will come after Christmas when a lot of the jockeys go away."
GRACE McENTEE
Newmarket trainer Phil McEntee had the distinction of playing a key role in the successful careers of top girl jockeys Josephine Gordon and Nicola Currie, and now has another exciting protege on his books.
She is daughter Grace McEntee, who is beginning to fulfil the potential she has shown on turf and the All-Weather as firstly an amateur and now a 7lb claimer over the past year or so.
McEntee Jnr ended November in style, riding winners on board her father's Split Down South at Chelmsford City and Contingency Fee at Southwell before grasping an even bigger opportunity.
She was summoned by top trainer Marco Botti to ride his Sweet Celebration in a Kempton Park handicap and certainly didn't let him down. She coaxed the three-year-old to a comfortable half-length success.
"It was huge for me," adds Grace. "I'm very thankful for the opportunity to ride for such a big trainer and big owners in Middleham Park and for the filly to win will hopefully put me out there and encourage him to give me a few more rides."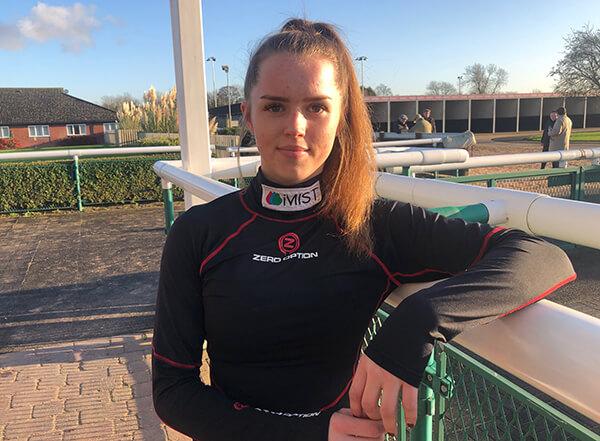 The teenage jockey has struck up a magical association with stable favourite Contingency Fee, winning five times on him this year.
"We all love Connor, he's a proper yard favourite. At Southwell he showed again how much happier he is in smaller fields. He can do things in his own time and galloped on really strongly."
Dad Phil is understandably proud. "I haven't rushed her but she's got over 100 rides under her belt now and is improving all the time. She's in a good position to progress.
"Contingency Fee is definitely the horse who has got her up and running, just as Gentlemen did with Josie and Spare Parts with Nicola two years ago. I can't see any reason why Grace can't be successful, too."
She doesn't disagree. "I'm really hoping to give it a kick this year and have a go at becoming champion apprentice on the All-Weather.
"What Josie and Nicola achieved with dad's help has been an inspiration to me and I've been learning from them for a few years now. I'm hoping that I'm ready to follow in their footsteps and if I can achieve half as much I'll be delighted."